It's Parkrun's Birthday This Weekend So Go And Run One
Need more inspiration? Here's how parkrun helped one man lose 9½ stone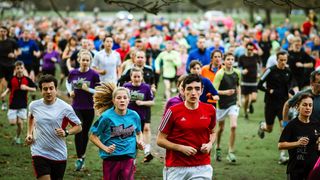 (Image credit: Unknown)
Photograph: Andy Waterman
The very first parkrun was held in early October 2004, when 13 runners got together and tackled 5K around Bushy Park in London. This weekend, when parkrun celebrates its 13th birthday, more than 200,000 runners and volunteers across 1,200 events and 17 countries will be taking part.
Parkrun is now the biggest running event on the planet and the reasons behind that success are plain to see – it's free, it's easy to get involved in and it times your 5K effort, plus the encouraging atmosphere at each event keeps runners of all levels coming back for more.
One man who epitomises the good that parkrun does is 38-year-old Des Pratt, a branch manager of a retail company, whose home event is Daventry parkrun in Northamptonshire. After being encouraged to attend his first parkrun in January last year, Pratt has become a regular at the event and a keen runner, which has helped him lose weight and improve his fitness.
Why did you start running?
"I'd been quite large for a number of years," says Pratt. "I'm 6ft 7in [2m] so I thought it was just a nice spread of weight. I knew I was big but I never thought I was over-the-top big.
"Then I went away on a lads' weekend, came back and just felt absolutely terrible. It was a lightbulb moment. I said to my wife, 'That's it, you're never going to see me looking like this again'.
"In the space of roughly 42 weeks I lost 9½ stone [60kg] and I've maintained it. I did it through Slimming World initially, but a big part of it was running, and in particular parkrun."
How did you get into parkrun?
"A friend introduced me to it at the end of January last year. He'd been doing parkrun every Saturday," says Pratt.
"At my first one I was still really overweight and struggling. It took me 42 minutes – I hated it if I'm totally honest. I was sick at the end. I pretty much went home and cried. I thought, 'If this is what it's going to take to get myself fit, then forget it, I'm not interested'. But my friend pestered me all week and I went back for the next one, and it got a little bit easier and the time got a little bit quicker. I was enjoying it more and I started making friends there.
"It snowballed from there – I started running in the week on my own, knowing that I had the parkrun on Saturday to go to. At the back end of the year I got my time right down and I started entering other races and doing longer runs with my friends.
"The weight had started coming off and I'd got myself into a nice circle of running further and faster and losing weight, which helped me to run further and faster, and so on.
"This year I managed to get my parkrun personal best down to 23min 51sec. That's one of the things I love most about parkrun. It's free and fun – and it is 100% fun – but you've also got that timing element there as well so you can pit yourself against yourself.
"You're not in competition against the other people – it's competition with yourself, where you can better yourself every week."
How long did it take to start enjoying running after that tough first week?
"I would say genuinely it was probably only that first week," says Pratt. "It's just that initial, 'Oh my God what am I doing?'
"But even in that first week when I wasn't enjoying it the people there and the atmosphere of the whole event made it better. I think if it was a hostile environment and people weren't friendly I probably wouldn't have gone back the second week."
Would you encourage runners of all abilities to give parkrun a go?
"Yes. When my friend first told me about it it was a bit daunting, but he explained that everyone's really friendly and the atmosphere makes it," says Pratt. "Without trying to be insulting he was saying that there are other people like me there. All I saw in my head was people doing it really quick and then everyone will go ahead and no-one will support me.
"But there are people at Daventry – and I'm sure it's the same at other events – who stay if they can and help and support, even the people who do it in a quick time. There's a hill at the finish at Daventry and some go back to help people up the hill. I've seen people sacrifice their own run to help others if they've fallen over or they're struggling. It's just such a great atmosphere.
"I try to encourage as many people as I can to do it. It's not just the runners – it's the volunteers and the people who organise it as well. The whole thing is like a family."
If you're keen to give parkrun a go, and you live in London, then our pick of the best parkruns in London might help you choose your first run. One tip – it's probably wise to steer clear of Lloyd parkrun in Croydon if you're a newbie (even though as Pratt says, you'll probably get plenty of help).
Find a UK parkrun near you at parkrun.org.uk
Sign up for workout ideas, training advice, reviews of the latest gear and more.