Do You Love Or Hate Running With People?
Because Stance ambassadors Ricky Lightfoot, Gemita Samarra and Yoann Stuck seem split on the issue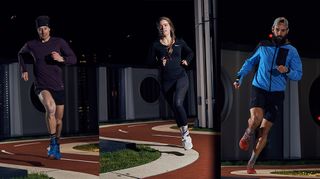 (Image credit: Unknown)
We love running socks here on Coach, so when we were invited to the launch of Stance's new Feel 360 socks (opens in new tab) by running on the track at the top of the White Collar Factory in London, we couldn't have been more excited. And while we there we collared three of Stance's ambassadors – French ultrarunner Yoann Stuck, all-action stuntwoman and artist Gemita Samarra and elite fell runner Ricky Lightfoot – and hit them with a pop quiz about their tastes, loves and hates. It turns out running with people is the yeast extract-based spread of the sport. Well, of these three runners at least.
What's your favourite music to run to?
"I like rock music and electro music. Rap music, too. When I'm sad I like rap music because it's a good motivation for when I don't want to go outside. My favourite rap song at the moment is a French rap song by IAM, a band from Marseille." – Stuck (@yoannstuck (opens in new tab))
"I listen to rock music. It's quite aggressive, it gets you going. I'm going to big up Highly Suspect, because they're really good friends of mine, and the song 'My Name Is Human'." – Samarra (@gemitasamarra (opens in new tab))
"I don't wear headphones very often, but I just have a random playlist off Spotify. A bit of everything really. I like Calvin Harris, he's one I listen to. But I listen to everything!" – Lightfoot (@rickylightfoot (opens in new tab))
What's your favourite place to run?
"In general it's more forest and mountains. I do more trail running than running on the road. I was living in San Francisco last year, and there are a lot of trails around the Sibley Volcanic Preserve." – Samarra
"For me you can't beat the Lake District. I'm probably a bit biased, because I'm from there, but I just love it." – Lightfoot
RECOMMENDED: Why I Love Trail Running: World Champion Ricky Lightfoot
"I like to run in Chamonix, it's the best playground in France. I like to do the CCC race – Courmayeur Champex Chamonix – during the Ultra Trail du Mont Blanc. It's a little race, 100km. Training solo, I like to do this over two days, so it's 50/50km." – Stuck
Do you have a motivational trick to get through the tough moments of runs?
"I always tell myself if I'm feeling like that, then everyone else is the same. At the end of the day it's not going to kill you, is it?" – Lightfoot
"I like competition. I don't like to see some people training more than me. So I have to go outside. I want to train more than them!" – Stuck
"I stop. I'm usually running in a beautiful place, so I take a minute to absorb and appreciate that. Because if I carry on pushing through it I find I don't enjoy it as much. I like pushing myself, but I also like to enjoy it. I grew up as a competitive athlete and I don't want to do that with running. So I take a break." – Samarra
What's the best bit of running advice you've ever had?
"It's cool to join a running club or community, so you have someone to emulate and some advice." – Stuck
RECOMMENDED: The Best Free London Running Clubs For 2018
"Run on softer ground if you want to continue running for longer. I'm 24 and I'm falling to pieces. If I like something I get addicted to it, and I did get addicted to running for a while. And I was running on hard ground and my knee was destroyed, so I got advice to start running on softer ground to strengthen it." – Samarra
"Run with people. I find it difficult at the minute because of shift work, but I try and meet up with people as much as I can, because it's good to share your passion." – Lightfoot
What do you love most about running and what do you hate the most about it?
"I love the mental aspect of it. I find other sports like climbing, swimming and surfing a lot more fun physically, but because running is a more technically easy thing to do – you're not in a life-or-death situation – it gives me a chance to think about things more clearly. I feel like the pace I'm going at gets the blood going and gets my thoughts going. It's more of a freedom thing and it's me time. I actually hate running with other people! I think that's about having it as my selfish time for me to be by myself. I also don't like having to keep up with someone – it doesn't drive me, it just annoys me." – Samarra
"It can be a chore sometimes, but then you get the times when you feel euphoria, like when you're running down a hillside. There's a handful of times I can name where I've felt absolutely amazing, floating on clouds, and it's those times you live for." – Lightfoot
"I like the spirit in running and when you run solo it's nice because you can think. Seven years ago I was very heavy, and I drank and smoked a lot. When I stopped smoking I started running and now I get some good results, so I am very happy. For the moment, there are no bad things about running. For the moment!" – Stuck
Sign up for workout ideas, training advice, reviews of the latest gear and more.