Taking Part In Parkrun Makes You Happier
Get involved in the parkrun and Strava communities for a wellbeing boost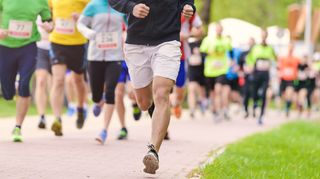 (Image credit: Unknown)
Running is often seen as a solitary pastime, but the community within the sport is often its main draw – whether it's running with a friend or some colleagues, joining a club or heading down to your local parkrun every weekend.
Research done by Glasgow Caledonian University found that 89% of runners who take part in parkrun feel that it has made them happier. Furthermore, joining in the Saturday morning runs has made them more likely to exercise at other times, with 80% saying parkrun motivated them to work out in the week.
The survey also involved people who use the sports tracking app Strava, finding that 83% were more motivated to exercise because of it. Over 8,000 people who take part in parkruns or use Strava were questioned as part of the research.
Happiness was rated using the respected Oxford Happiness Questionnaire, which scores on a scale of 1 (unhappy) to 6 (extremely happy). Participants in the study had an average score of 4.4 – 0.4 higher than the average across the general population, not a huge surprise to anyone who has ever attended a parkrun. Even on the coldest, wettest Saturdays it's all smiles.
See related
As for Strava, its the social networking features can make a real positive difference to your wellbeing because unlike most social media sites and apps, Strava is an overwhelmingly positive place. People give kudos to others for their activities and leave almost exclusively well-intentioned comments underneath. As opposed to pretty much every other form of social media you can think of.
Almost two-thirds (64%) of people surveyed said that Strava had made a positive impact on their self-confidence, and 44% said it had improved their social life. A mere 0.7% of respondents said using Strava had resulted in any negative effects.
Even if you don't have any intention of joining Strava or dragging yourself out of bed to make the 9am start time for parkrun on a Saturday, there's something to be taken from the study: exercising with other people is great, and it could well make you happier in general and motivate you to exercise more.
Sign up for workout ideas, training advice, reviews of the latest gear and more.