Keep Yourself Fit And The Streets Clean By Plogging
Accomplish a little extra while you run by grabbing some litter along the way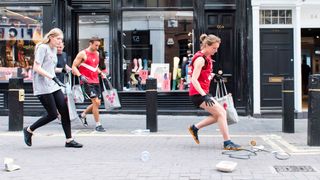 (Image credit: Unknown)
In the UK, it was GoodGym that first popularised the idea of combining good deeds with running, but of course the concept didn't start there and if you want to do it, you're by no means limited to one of the 43 GoodGym groups. You can do some good when running by yourself or with a couple of friends by plogging. Yes, we said plogging. Yes, plogging is a made-up word. Here's what you need to know about it.
What is plogging?
Like so many good things – flatpack furniture, lingonberries, Dolph Lundgren – plogging comes from Sweden. It involves gathering litter while you run and its name comes from combining the Swedish term for "pick up" – plocka upp – with jogging.
Though people have been plogging for many years, it is considered to have really started in 2016 in Sweden, before reaching a wider audience thanks in part to Swimrun world champion and Vivobarefoot (opens in new tab) ambassador Maja Tesch taking up and promoting the practice.
What do you need to do it?
Not a lot, as Tesch explains. "All you need is your legs, a pair of trainers and a bag! We do also provide gloves which are advisable when collecting litter, but that's really all you need."
Is it actually fun?
"It really is, for many reasons," says Tesch. "First of all, you're running, which drives endorphins and makes you feel great. It's something that someone of any fitness level and indeed any age can do, as you can speed up or down as you wish, freestyle. And for those wanting a higher intensity workout you can incorporate sprints in between 'pick-ups', or combine them with exercises like squats or lunges.
"It can also be hugely social. We had a huge group at our first Vivobarefoot Plogging Club, including children – all ages are welcome – and people stopped to talk to us along the way.
"There is also the feelgood factor. You're exercising, being social and doing your bit for the planet. It's a win-win."
We went along to the first Vivobarefoot Plogging Club in central London and can confirm it was surprisingly enjoyable, although we'll confess we sped through a murky alley where the floor was covered in condoms with our eyes fixed determinedly on the sky. Give it a go, even if it's only for five minutes at the start or end of your run – you'll be making the world a cleaner place.
Vivobarefoot is hosting a plogging event on 28th July, led by Maja Tesch and author Madeleine Shaw. Attendees will be rewarded with Vivobarefoot shoes made from recycled plastics, each pair saving 17 bottles from landfill. To sign up, contact vivobarefoot@redlionpr.com
Sign up for workout ideas, training advice, the latest gear and more.