Strava Says The Fastest City In The UK Is…
If you want to find the fastest runners and cyclists in the UK, head to Northern Ireland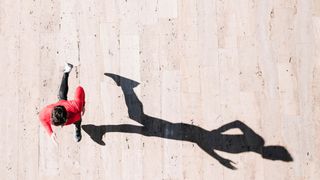 (Image credit: Unknown)
It's the most magical time of the year. Christmas trees are popping up all over the nation, festive light displays line the high streets of every city, town and village, and Strava has released its end-of-year stats.
With 36 million members logging activities in 195 countries, Strava is in a unique position to show what the world is doing when it comes to running and cycling. You can use that info to work out the best ways to motivate yourself to move more – people who exercise with others exercise more, for example – or you can just use it to find out who has the bragging rights for being the fastest runners and cyclists in the UK. And it's Northern Ireland.
Let's start by tipping our hats to the runners of Londonderry, because they averaged a sprightly 5min 13sec per kilometre throughout 2018. That's a lot quicker than any other city, with Antrim and Glasgow the next fastest at 5min 24sec per km. The fastest English city was London at 5min 31sec per km, while Cardiff was Wales's speediest at 5min 33sec per km.
Overall, Northern Ireland was the fastest nation of the UK at 5min 59sec per km, with Scotland second at 6min 8sec per km, England third at 6min 12sec per km and Wales lagging well behind at 6min 28sec per km.
For England, Scotland and Wales, Strava has broken down the fastest cycling spots by area, although it has stuck with cities in Northern Ireland, making it tough to crown one winner. However, when it comes to the overall rankings, Northern Irish eyes are smiling once again. Northern Ireland tops the overall nation charts with an average speed of 23.6km/h, with England second at 22.1km/h, Wales third (21.4km/h) and Scotland bottom (21km/h).
Ballymoney is the speediest spot in Northern Ireland, with an average of 26.1km/h, while Dungannon and Omagh are joint-second at 25.7km/h.
Elsewhere in the UK Lincolnshire, Suffolk and Warwickshire all come in at 23.6km/h, making those areas the fastest counties in England. Anglesey tops the Welsh charts at 23.3km/h, while North Lanarkshire and Renfrewshire share the Scottish spoils at 22.7km/h.
See related
In case you're thinking that Northern Ireland's success is due to some canny exercisers only recording sprints, think again – its Strava users have the longest average rides and runs at 38.9km and 7.9km respectively. The Welsh are second when it comes to ride length, England third and Scotland fourth, while Scotland has the second-longest average runs with England and Wales tied in third.
Here are the full speed rankings for running and cycling.
Running
Overall
1. Northern Ireland 5min 59sec per km
2. Scotland 6min 8sec per km
3. England 6min 12sec per km
4. Wales 6min 28sec per km
England
1. London 5min 31sec per km
2. Brighton and Hove 5min 33sec per km
3. Bristol 5min 33sec per km
Northern Ireland
1. Londonderry 5min 13sec per km
2. Antrim 5min 24sec per km
3. Belfast 5min 27sec per km
Scotland
1. Glasgow 5min 24sec per km
2. Edinburgh 5min 30sec per km
3. Inverclyde 5min 30sec per /km
Wales
1. Cardiff 5min 33sec per km
2. Conwy 5min 50sec per km
3. Flintshire 5min 50sec per km
Cycling
Overall
1. Northern Ireland 23.6km/h
2. England 22.1km/h
3. Wales 21.4km/h
4. Scotland 21km/h
England
1. Lincolnshire 23.6km/h
2. Warwickshire 23.6km/h
3. Suffolk 23.6km/h
Northern Ireland
1. Ballymoney 26.1km/h
2. Dungannon 25.6km/h
3. Omagh 25.8km/h
Scotland
1. North Lanarkshire 22.7km/h
2. Renfrewshire 22.7km/h
3. Inverclyde 22.5km/h
Wales
1. Anglesey 23.3km/h
2. Pembrokeshire 23km/h
3. Wrexham 23km/h
Sign up for workout ideas, training advice, reviews of the latest gear and more.