Strange Games: Unusual (and Discontinued) Olympic Sports
The noble Olympics have dabbled with some bizarre events down the years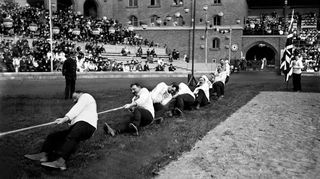 (Image credit: Unknown )
Among the many breathtaking sporting moments of the past 120 years, the Olympics have also provided some rather unusual events, which were often quietly dropped from the line-up after a single Games. And if you're a squash fan wondering why your sport's requests to go Olympic have been ignored for over a century, your frustration will likely double when you read some of the bizarre activities that have been deemed acceptable over the years.
RECOMMENDED: Team GB's Olympic Training Plans
Tug Of War
A staple of school sports days it may be, but the tug of war has not graced the Olympic schedule since 1920. It did get more of an airing than other events on this list, however, as it was part of every Olympics from 1900 to 1920. In that time, Great Britain dominated, claiming five medals, including two golds.
Croquet
A sport more associated with aristocrats trying to fend off boredom than the Olympics, a total of three events took place in 1900. France won every medal – hardly surprising, as the 10 total players in the three events were all French. Four years later, roque – an American variant – replaced it at the Olympics. To continue the trend, roque should really have been replaced by oqu in 1908 but, alas, no such sport exists.
Rope Climbing
Part of the gymnastics schedule at four of the nine Olympics held between 1896 and 1932, rope climbing was generally judged purely on speed, but in the very first games, participants could also earn points for style. However, given that only two of the five competitors managed the 14m climb in 1896, it seems unlikely they were overly concerned with the elegance of technique. In 1904, the rope climbing was won by American George Eyser, who didn't let the fact he had a wooden leg stop him claiming six medals, including three golds, in one day.
Swimming Obstacle Race
This appeared once in 1900, when 12 competitors battled over a 200m course. The racers had to climb over a pole, scramble over a row of boats, and then swim under another row of boats. Only three obstacles, and not one of them inflatable. What a missed opportunity. Australian Frederick Lane took gold, with Peter Kemp of Britain grabbing a creditable third place.
Basque Pelota
Basque pelota is a fairly terrifying game involving hurling a hard ball from a hooked wooden glove/basket against a wall at speeds that routinely top 150mph, whereupon the opposing team try to catch it and hurl it themselves. Its one official Olympics appearance was in 1900, when Spain bested France – in the only match of the competition – to claim gold.
Water Motorsports
Motorboats are not something that many associate with the Olympics, but they do have some games pedigree, with three races at the 1908 games. All three events involved five laps of an eight nautical mile course, and all three saw just one boat finish due to inclement weather dispensing with the only other competitor. Not hard to see why this one was dropped.
Equestrian Long Jump
Horses were once allowed to long-jump, with the gold medal claimed with a leap of 6.10m. Belgian Constant van Langendonck won, well clear of silver-medallist Gian Giorgio Trissino of Italy, who will nonetheless have been happy, having managed to nab joint-gold in the equestrian high jump. Neither horsey high or long jumps have graced the Olympics since.
Cricket
The tale of cricket's one appearance at the Olympics is an extraordinary one. Only two teams competed, Britain and France, with the former represented by the Devon County Wanderers, who were actually on a tour of France at the time, and the latter's team largely made up of British expats. A glorious 158-run victory and the gold medal eventually went to Britain/Devon.
Plunge For Distance
Part of the line-up for the 1904 Olympics, the plunge for distance involved competitors diving into the water and then gliding motionless as far as possible in 60 seconds or until their head broke the water. Five participants took part in the event in 1904, all Americans from the New York Athletic Club. William Dickey took gold with a distance of 62ft 6.
Underwater Swimming
Another one-off for the 1900 Olympics, competitors had to swim for as long and as far as they could underwater, with one point awarded for every second that passed and two for every metre covered. Dane Peder Lykkeberg finished third despite swimming for 90 seconds compared to French winner Charles Devendille's 68.4 – because he swam in a circle, managing 28.5m.
Sign up for workout ideas, training advice, reviews of the latest gear and more.