What's The Healthiest Spectator Sport?
The inside scoop on sports you can burn calories just by watching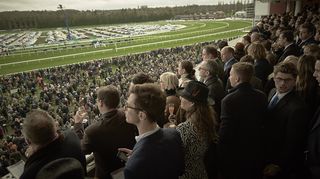 (Image credit: Unknown)
Coach is all too aware of the paradox of watching professional sport – enjoying elite performance can often be the opposite of beneficial, coinciding as it does with the consumption of salty snacks and sugary beverages. Some of the impact of the spectator's "diet" can be mitigated by attending the event, and getting outdoors and moving around, almost like exercise itself.
The Healthiest Spectator Sports
Horse racing. A recent race-goer at Cheltenham logged a slenderising 1,300 steps at a meeting.
Golf. Following a group around you'll log 3-4 miles, but at a pace of about 1mph. Add in some star jumps.
F1. Assuming you go to qualifying and camp out, there's a fair bit of running from pillar to post.
The marathon. But only if you offer loyal support and move to various en route vantage points.
Tennis. Only the neck muscles get much of a work out.
Football. Adrenaline and occasional vigorous standing is mitigated by all the lager and Kit Kats.
American sports. Watching sport in the US is a thinly veiled excuse for a massive fat, salt and sugar orgy.
Cricket. An entire day's eating and drinking, interrupted by the occasional snooze.
By far the most vigorous event, according to Coach's (unofficial) survey, is horse racing, in which the gap between races (30 mins) provides just enough time to set up a base camp with your race-going chums, scoot to the bar, back to base camp, parade ring, bookies, as close to the finish post as possible, back to the bookies to collect winnings (optional), and back to base camp in time to begin again. Repeat seven times. Even at a fairly compact course, such as Newbury, scene of this Saturday's Hennessy Gold Cup, there's little time to rest. At some of the monsters, such as Cheltenham or Aintree, you're faced with a choice between skipping a stage or breaking into a jog.
Do Something: Attend The Hennessy Gold Cup
A superb meeting that combines many of the UK and Ireland's premium jumping stars with an often deliciously frosty English winter's day and pre-Christmas giddiness, and all just an hour from London – what's not to like? The Gold Cup itself, won in recent years by names as tough and popular as Denman and Bobs Worth, and two years ago by Many Clouds, who went on to win the National, requires the heart of a lion and the resilience of a steamroller. The meeting has been condensed to two days from three to stiffen the mix even further, sufficient to draw the best part of 20,000 race fans to Berkshire for the raucous Saturday programme of fortune-seeking and outdoor revelry.
RECOMMENDED: Are You As Fit As A Jockey?
Fancy A Flutter On The Hennessy?
Picking the winner of any horse race is like trying to guess who'll be last to leave a party without even being sure who's going to come, but the Hennessy Gold Cup is three miles plus, with 21 jumps and a quality field, so demands loads of class and stamina. Coach's men with the binoculars recommend looking for a second-year chaser (ie a horse who made a successful debut over fences last year), but which hasn't been so successful as to attract too much of a penalising touch from the handicapper (so avoid the very top weights). Previous winners rarely repeat – it's only happened three times in 60 years.
The Hennessy Gold Cup is live on Channel 4 on Saturday at 3pm. For tickets, newburyracecourse.co.uk
Sign up for workout ideas, training advice, reviews of the latest gear and more.