Jonathan Trott Talks About Beating Anxiety
The former England cricketer on the people who've helped on and off the pitch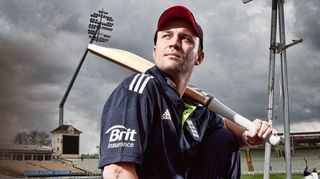 (Image credit: Unknown)
Who inspired you to become a cricketer?
My folks definitely, and my brother. My brother was a professional cricketer, so I had a window into what it was like. I got to meet all my heroes in the game, which spurred me on as well. Sport was very different then, there wasn't a huge separation between sportsmen and the public.
My dad used to play in his club's thirds. Sometimes the third and fourths would play on adjacent fields. Once someone in the fourths didn't turn up – I always hoped this would happen – so they asked if I'd play, I was 10, batted number four. My dad was on the other field. He got 99, I got 50 odd, and we were looking across to each other. That's a fond memory.
How was it coming into the team for the Ashes decider in 2009?
A lot of people forget that I made my debut in 2007. I hadn't even played for the Lions [England "B"]. The only person I knew was Belly [Ian Bell]. I had a broad South African accent, so it was a little bit different for everyone. My first interview before the T20 game I remember Nasser [Hussain] asked "So Jonathan, why England?" and I thought: "Oh, thanks very much!"
It was all a bit of a jolt and I realised I was way off what I needed to be in international cricket. Luckily it coincided with Ashley Giles taking over at Warwickshire, who guided me as a mentor. He got the most out of his talent, so he wanted to do that for me, and he did. By 2009, I'd been on all the Lions tours, so I knew everyone. They were all brilliant. The team was different, more old school then, [Andrew] Flintoff was still part of it.
How important has Ashley Giles' influence been on your career?
Massive. I've always looked up to him. I don't think I would have been the player I was if it wasn't for him. He transformed my game and the way I think about the game. He's a great coach, a great friend and a fantastic bloke.
Among your Ashes opponents, who did you respect most?
Brad Haddin stands out for me. He's a fantastic guy, plays the game the right way. Hard, fair, and a very dangerous player. He had a word behind the stumps, but he also upholds the spirit of the game. I've always been impressed by him.
Which player first noticed when you started to struggle with your stress-related illness in 2013?
Kev [Pietersen] noticed it early on, at Manchester and Lords [in the Ashes 2013]. I didn't feel quite right, something was wrong and I didn't know what it was. My natural instinct when I'm not feeling quite right is to work harder and push myself. In hindsight, I was steaming ahead when I should have been slowing down.
Who helped you after leaving the 2013/14 Ashes tour?
Generally everyone was very supportive. What happens with cricket, with Marcus [Trescothick], is everyone thinks it's depression. It's a safe thing to say, it covers all bases. But I'm a specifics type of person. I want to know what is wrong with me. I know I'm not depressed, and lots of doctors who diagnosed me said I wasn't depressed.
Within half an hour of sitting down with Steve Peters [an elite sports psychiatrist] he told me I have situation- based anxiety. It sounded exactly right. It was only when I put on my cricket clothes that it takes over. Away from the field I was fine. Sometimes it was when I put the pads on, then it developed to when I put my tracksuit on to go to the ground. I'm sure lots of people do it when they put their shoes on to go to work. It's a trigger. After meeting Steve once I knew I'd be fine. Someone eventually got it. He was a very bright light at the end of a tunnel.
RECOMMENDED: Cricketer Graeme Fowler On Depression
Who was important to your comeback?
Graham Gooch, I worked extremely hard with Graham. He'd come to Edgbaston to work with me. Goochy was good, and my team-mates at Warwickshire. Warwickshire has been very good to me. I can't thank them enough.
Did it feel different when you played for England again?
Yes, it was a combination of things. Different team, opening the batting. I'd worked very hard to get back on the side. I'd been on a Lions tour, earned my right there, outscoring everyone else. There was also a lot more scarring from what had happened, having my eyes widened, knowing what goes on around cricket now. Sometimes naïvety can protect you, and I wasn't naïve any more. The team had moved on. After the Second Test when I'd scored 50 and 0, I felt like I was in people's way. I wanted Adam Lyth to play before the summer, he was next in line.
But still a huge achievement to come back at all?
Yeah, people ask what's your biggest achievement, and it's certainly up there.
Jonathan Trott's autobiography Unguarded is available now, published by Little, Brown, hardback £20. Buy on amazon.co.uk.
Sign up for workout ideas, training advice, reviews of the latest gear and more.