Liverpool's Emre Can On The People Who Have Influenced His Career
Steven Gerrard, Zinédine Zidane, Jupp Heynckes – the Germany star has been inspired by the best in the business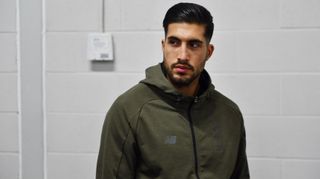 (Image credit: Unknown)
No matter how talented a footballer you are, it takes help from others to rise to the top of the game. We spoke to Liverpool and Germany midfielder Emre Can about the people who have influenced his career at the launch of the New Balance|LFC CXXV sportswear collection.
Who has been the biggest influence on your career?
I have to say my family because they supported me from day one. They watch all my games and they always give me a good feeling.
Who was your hero as a boy?
It was Zinédine Zidane. He was for me the best player in the world – how he dealt with the ball, how he touched the ball. He was my hero.
RECOMMENDED: Train Like Harry Kane With His 6 Top Football Drills
Was there anyone aside from your family who made a special effort to help you at the start of your career?
I had a manager when I was very young and he had a big influence – Toni Magalarisi. He was my first manager, we are still in contact. He had a big influence because my parents couldn't always drive me to training, so he picked me up from home and he helped me a lot. That was in Frankfurt where I came from, when I was very young, at my first team – SV Blau-Gelb, the team was called. Blue and yellow.
What's the most important lesson football taught you?
That you have to always believe in yourself. If you believe in yourself then with hard work you can reach everything.
Which manager has had the greatest effect on you as a player?
I can't pick one manager! It's really difficult. I would say a lot of managers. Steffen Freund when I was in the youth team for the national team, he helped me a lot. Then when I became professional Jupp Heynckes at Bayern Munich helped me a lot. Then of course Brendan Rodgers because he brought me to Liverpool and I am very thankful for that.
Which team-mate has been the biggest inspiration to you?
I remember one thing from Stevie when I came to Liverpool – Steven Gerrard. I was with friends and he was 20 metres away and he walked over just to say hello to my friends. He doesn't have to do that but he's a legend and that's why he does it. It was a nice moment.
He was the captain and he had a big influence on the team, and everyone respected him a lot. When he would say something in the team everyone would know it was right. He did everything for the team.
Who is the toughest opponent you ever faced?
I would say Cristiano Ronaldo and Leo Messi because they are the best players in the world.
How did you prepare to deal with them?
It was the same preparation, like with all games, but you are really looking forward to play against them and you want to do well against them.
Emre Can's Favourite Item From The New New Balance|LFC CXXV Sportswear Range
I always like the tracksuits from New Balance and I like our shirts, our home and away shirts – the orange one. I couldn't pick one item!
Check out the New Balance/LFC CXXV range at liverpoolfc.com/fashion
Sign up for workout ideas, training advice, reviews of the latest gear and more.