Ace A Big Tennis Weekend Near You With These Tips For Beginners
Whether you're new to the sport or a lapsed player, these pointers will help you get the most out of the LTA's free summer sessions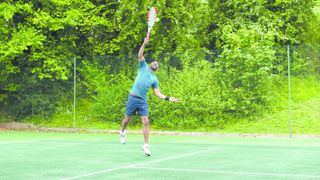 (Image credit: unknown)
Wimbledon is here and there are three time-honoured ways to celebrate the occasion. One is to spend several hours queuing to get into the All England Club to watch the matches live. A second is to spend those hours eating strawberries and cream, and drinking Pimm's on the sofa while watching on TV. And the third is to go and actually play some tennis.
If watching Andy Murray pairing up with Serena Williams in the mixed doubles isn't inspiring enough to get you playing tennis yourself, how about the prospect of free court time and coaching? That's what you get if you participate in any of the Big Tennis Weekends and other free events being held all over the country this summer. Granola bar brand Nature Valley has partnered with the LTA to put on the events, details on which you can find on the LTA website.
If you're new to tennis you might have some entirely natural fears about making a fool of yourself on the day. The first thing we'd say is don't worry – everyone had to start somewhere and there are loads of ways to make tennis accessible to beginners. It's not as if you'll be going straight into a five-setter against a big-serving monster.
To help you feel a bit more confident in heading for the court we've also enlisted Leon Smith, captain of the Great Britain Davis Cup team and Nature Valley ambassador, to provide his top tips for complete beginners.
See related :
"Always start with a good warm-up! The last thing you want is to pull a muscle and limp off the court," says Smith. "Do a slow jog to start and then gently warm up the main muscle groups. Try some sidesteps and light backwards running, then stretch the calves, hamstrings and quads as these will be used a lot when you're running around the tennis court. Finish with forward and side lunges."
"The key thing is to not swing too fast or too big, with very little backswing – by keeping swings smaller you will control the ball better."
"Using a practice wall is a great way to gain good racket control and rhythm, and develop hand-eye co-ordination."
"Use a softer ball – these move more slowly, which gives players more time to set up for shots. Rallies are more fun and a softer ball can really help make them happen."
"Play in a smaller size of court to start with, such as just the service box areas, and focus on controlling the ball with shorter swings. This again will help sustain a rally which means you get lots more practice."
"Mix in different hand-eye co-ordination exercises like throwing and catching. Developing hand-eye skills will really help when learning to hit a tennis ball."
"As with all sports, introducing competition – even for first-timers – is part of the fun!"
Sign up for workout ideas, training advice, reviews of the latest gear and more.