Show Off Your Skills At Neymar Jr's Five – The World's Biggest Five-A-Side Tournament
The UK's best sides will qualify for the world finals in Brazil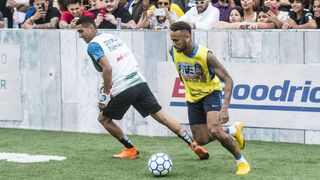 (Image credit: Unknown)
Whatever level of football you play at and however unimportant the game you're playing is, conceding a goal is always a gut punch. However, at the Red Bull Neymar Jr Five tournament it's especially upsetting, thanks to its unique twist to the rules of the game – masterminded by the Brazil striker.
Every time you concede a goal, your team loses a player, with the match lasting either ten minutes or finishing when one team completely runs out of players. Your team wears bibs numbered one to five, with number one being the first forced to the sidelines when you concede, then number two and so on. Have fun sorting out who gets to be number five and who has to be number one.
There are also no keepers in matches at the tournament, with your team of five outfield players aiming to score in small goals that encourage precise finishes after slick passing moves rather than hopeful blasts from the halfway line.
Teams from 40 different countries have to negotiate local qualifiers to represent their country at the world finals that take place at Instituto Projeto Neymar Jr in Praia Grande, Brazil.
There will be 19 different qualifiers in the UK run over seven weeks, most of which are held at branches of Powerleague. The first events are on the 17th March with the events held at Powerleague centres in London and Manchester. You can find the full list of qualifying events on the tournament website.
See related
You can enter a squad of up to seven, most of which have to be 16 to 25 years old – only two players in your squad can be over 25. There are tournaments for both male and female teams, with the first women's tournament taking place last year, where the Eagles were the UK's representative in Brazil.
"Often tournaments like this are restricted to just men's teams so it's brilliant to see girls getting a chance to showcase what they can do on the pitch," says Harriet Pavlou, the Eagles team captain. "Our team came together through social media but we've made lasting friendships because of it. I'd encourage anyone thinking about it to sign up – we definitely will be!"
It costs £21.79 per team to enter and once you're past the awkward moment where you tell a team-mate they're going to be the first out when you concede, it's sure to be a lot of fun.
Sign up at redbullneymarjrsfive.com
Sign up for workout ideas, training advice, reviews of the latest gear and more.