​​Table Tennis Player Ross Wilson's Paralympic Training Regime
The two-time Paralympic medallist and world champion talks us through his prep for a very different Games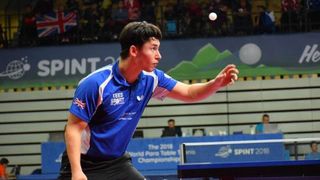 (Image credit: unknown)
The 2020 Tokyo Paralympics will be the third Games for table tennis player Ross Wilson, having already claimed bronze medals in team events in London and Rio, as well as taking gold at the 2018 World Championships in Slovenia.
More medals are on the agenda for Wilson in Tokyo, but his prep for the Games has been very different from past events owing to – what else? – the pandemic.
We spoke to Wilson through London charity Greenhouse Sports, which uses mentoring and sport to inspire young children to reach their potential. Wilson was coached as a young player by Jason Sugrue, a former table tennis player and current director of coaching for Greenhouse Sports, who still acts as a mentor today.
We normally train twice a day from Monday to Friday. Then we have three gym sessions a week on top of that, which we do in between training sessions.
In a normal year, I'd play in a league in Switzerland, flying out on Friday and back on Sunday night. The pandemic has changed things a lot.
I haven't played in competition since the national championships in March last year. The majority of people will be going to the Games in a similar position. Some countries may have allowed domestic competitions, but no-one has played an international competition.
Coming up to competitions, you try to find new people to play against. You set up courts and try to make it feel as realistic as possible, especially with not being able to compete in the lead-up to Tokyo.
Even though a lot of things have changed, being with my team hasn't. I've been in that team for so many years that we really know each other well and we feed off each other.
A lot of my gym training is agility work. I'll also do strength stuff because with my condition, multiple epiphyseal dysplasia, I want to support my joints as much as I can. There's a lot of sport-based exercises as well like table tennis-specific exercises. So a lot of reaction drills and cardio.
I don't like it when training gets a bit stale. I try to mix up my training as much as I can. I travel around the country or abroad to train with different people, and play against different styles. If I'm not enjoying gym work, I'll try to get out on my bike.
When I first started I probably wasn't as focused on recovery as I am now. I suffer with injuries quite a lot, so I put a lot of emphasis on my recovery.
My condition affects the growth of all my long bones. And then with my joints, the cartilage in them is really worn down. So I suffer from inflammation in my joints a lot. If I pick up an injury, I'll probably suffer for around two to three weeks, whereas an average person would probably just have it for two or three days.
The psychological side of the game is massive. When you're playing against one person, it's almost like you're feeding off their reactions. In table tennis you're so close to them, you can read the person that you're playing against. That usually comes with match practice, playing lots of games and competitions. So this competition will be very different psychologically.
Sign up for workout ideas, training advice, reviews of the latest gear and more.