Become A Better Runner By Taking On The #Make1KWet Challenge
Swim 1K as fast as you can and see if you can match your 5K running PB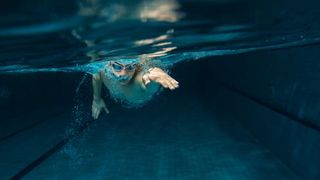 (Image credit: Unknown)
It's never a bad idea to mix up the exercise you're doing. A varied routine will not only stop boredom setting in but also ensure you don't work one part of your body into the ground while leaving another entirely untouched.
Runners in particular are a group who can definitely benefit from adding other exercise to their routine. You can mix up your runs in all kinds of ways – pace, terrain, distance – but they'll still put a lot of pressure on the same muscles and joints. Over time you'll find that the improvement in your running may stall if you don't mix it up with other exercise.
Swimming is an excellent complementary activity to running. It helps develop whole-body strength and cardio fitness without putting any pressure on the joints that suffer when you're pounding the pavements.
A recent survey conducted by OnePoll on 1,572 people who run and swim found that 86% of them said swimming helps enhance their running performance and 90% said they feel fitter and stronger when they combine swimming with running.
Speedo commissioned the OnePoll survey to support its new campaign #Make1KWet (opens in new tab), which is designed to get runners and cyclists into the pool by targeting their competitive streak. The idea is simple: can you swim 1K as fast as you run 5K or cycle 10K?
Assuming you've spent years honing your running skills to bring your 5K time down, you almost certainly won't be able to jump in the pool and match it over a 1K swim first time out. To help build up to your fastest 1K swim, former international triathlete and duathlete Annie Emmerson has designed three training plans for Speedo.
The training plans are pitched at beginner, intermediate and advanced level and each lasts three months, by the end of which you'll be a force to be reckoned with over 1K in the water.
First you'll need to determine which category you fall into by swimming 100m at around 90% of your fastest pace. Then check your times against the below to see which plan you should opt for.
Beginner: 2min 30sec+
Intermediate: 2min to 2min 30sec
Advanced: Under 2min
Once you've worked out your level, head to speedo.com (opens in new tab) to download the appropriate 1K plan: Beginner (opens in new tab), Intermediate (opens in new tab) or Advanced (opens in new tab).
Sign up for workout ideas, training advice, reviews of the latest gear and more.