How My Fitbit Helped Me To Lose Weight
James Ward from Durham has used Fitbit trackers to help him lose over 40kg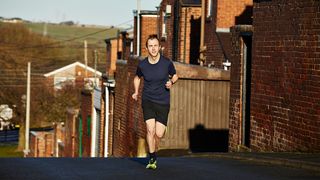 (Image credit: Unknown)
A lot of people get a Fitbit or other fitness tracker when they're looking to improve their health, and a lot of those people don't end up achieving what they set out to do. Many of those conclude that fitness trackers aren't of any use – but that would be a mistake because while these devices might not be useful for everyone, some find them very motivating.
James Ward from Durham has found Fitbit trackers invaluable in helping him to lose over 40kg, and change his physical and mental health for the better. To give you a better chance of getting the most out of any device you own, we spoke to Ward about his experience and how the trackers have supported it.
What prompted you to start exercising more?
It was the best part of three years ago. I was about six or seven stone [around 40kg] heavier, and unfortunately I lost my mother to cancer. I had a really bad time, I had anxiety, so I went to the doctors. He spoke about ways I could reduce my anxiety and he said if I lose some weight I'd probably feel better about myself, because he weighed us and he said I was clinically obese.
How did you start and was it hard at first?
I went to the local football pitch for a little run, and I couldn't get around once without feeling sick. It was horrible.
How did your running progress?
I wanted to raise some money for Cancer Research because of my mum, so I entered the [5K] race round Newcastle's Quayside. I kept going around the football pitch, and I was making it round once, twice, but that was only 400m, 800m – I was thinking I'm never going to run 5K!
I did this 5K around the Quayside and that's when I really got into running. At the start it was painful, because it affected my knees and obviously I was really unfit, but after the first race I saw the camaraderie at the start and during the race, cheering each other on, and I thought, "this is something I want to be part of". That's what gave me the first glimpse of the running world.
See related
How did your Fitbit help you stay motivated?
The first Fitbit I had you had to hit 10,000 steps and each light was 2,000 steps, and I was really pleased if I did the full 10,000. I felt a lot better when I was doing it, and it's not just the exercise, but generally just being outside in the fresh air – it gives you a new lease of life.
On the Fitbit app there's a league table of steps and not only can you add your own friends, but people from all over the world. You look at someone who is 250 steps ahead of you and think you've got to get out that day and beat him! Then they'll go back ahead of me! It's motivational because it's a target. You hit five, ten, 20,000 steps, and you're all trying to better each other. It gets to Sunday and you think, "I can't lose after seven days of steps!"
Have you changed which Fitbit you use as you've become fitter?
I did the 5K, and then I was talking to one of my friends who's really into running and he said once you've done 5K you've got to do 10K! The first goal I had for 10K was getting under an hour, and then on and on. And then you see the Great North Run on the television and I saw everybody running across the Tyne bridge. I thought that would be the next challenge.
Each step of the way I've upgraded my Fitbit. I had the one with five lights [the Flex], then the Blaze, and now I have the Ionic, which is great because it has GPS tracking, so I can see my runs with the maps and the stats.
Have you found the benefits of exercise to be mental as well as physical?
Definitely. The initial getting out there and doing it was a boost, with the fresh air and the exercise, and then as you start to lose a little bit of weight you feel better about yourself. You start wearing clothes you might not have worn, you feel a lot more confident, you go out to gigs and parties. Once I felt like I had to cross my arms or wear baggy things. Now with your clothes comes confidence, and the anxiety is gone, and you get out there and live your life.
James was speaking as part of Fitbit's #FitBritain campaign
Sign up for workout ideas, training advice, reviews of the latest gear and more.