Play Football And Lose Weight With MAN v FAT
And now you can join for just 50p as part of Public Health England's Better Health initiative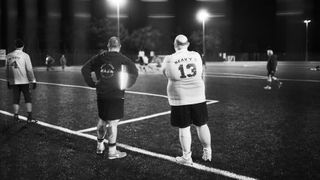 (Image credit: unknown)
If you've been thinking that you need to slim down but aren't sure how, what if we told you there was a weight-loss programme that helped 90% of its members to lose weight? You'd be impressed, right? And what if we told you that the cost of registration had been reduced from £9.99 to 50p as part of the Public Health England's Better Health initiative? You'd be looking for the Click Here button.
Well hold your horses – there are some caveats, mostly about who will really benefit from the programme. You have to be a man with a BMI of over 27.5, need to like football, and, perhaps most importantly, have a competitive edge that drives you.
MAN v FAT is a 14-week football league for men with that BMI figure or over, with games lasting 30 minutes. Along with the fun of playing football against men of a similar fitness level, players are also motivated to lose weight by the fact that it directly impacts on their team's fortunes – each week there's a pre-game weigh-in and the results affect your team's score.
This is why that competitive edge we mentioned comes into play. If you've found nothing else motivates you to lose weight, perhaps the fact that your team will start ahead on the scoresheet will.
MAN v FAT runs 80 leagues in England, Wales and Scotland, and so far 90% of players who have taken part have lost weight, which may indicate how motivated many men are to win a football match. Or how having the support and encouragement of a group of people in similar situations can be exceptionally effective when it comes to weight loss. Or both.
See related
Like all football leagues, MAN v FAT had been suspended during the COVID-19 pandemic. The new Better Health campaign from Public Health England, part of the UK government's obesity strategy, is helping MAN v FAT to start up again and providing that hefty 95% discount for new sign-ups.
"It's fantastic to be a part of the government's new campaign and we're looking forward to supporting men who want to improve their health, whether they've been meaning to lose weight for a while or whether lockdown has been an unhealthy time for them," says MAN v FAT managing director Tim Roberts.
"We've seen amazing results from the men who have taken part in MAN v FAT Football to date, and with the reopening of sports venues in England we're excited to get going again."
You can get more information on the leagues near you and how to sign up on the MAN v FAT website.
Sign up for workout ideas, training advice, reviews of the latest gear and more.