Improve Your 10K Training Using These Interval Sessions
Plus expert advice from British runner Charlotte Arter on how to pace a 10K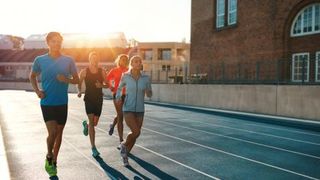 (Image credit: Unknown)
If you want to get faster over 10K, adding interval sessions to your training is a must. While regularly running at a steady pace is going to be of great benefit to your health and will improve your fitness, logging a quick 10K time means injecting some speed into your weekly routine.
To get some advice on the kind of sessions you can do to improve your speed over 10K, we asked Charlotte Arter (pictured below), British champion over the distance, to describe three of her favourite interval workouts – one of which we got to try with Arter in her capacity as an ambassador for Saucony.
You'll find those workouts below, along with some advice from Arter on how to pace a 10K to ensure all that training doesn't go to waste come race day.
Workout 1
After a good warm-up, run for two minutes at your threshold pace. This is roughly the pace you could hold for 50-60 minutes, which could be your 10K pace. Take a 90-second break, then run for two minutes at above threshold pace, so something like the pace at which you'd run a 5K.
We got to try this session with Arter and running coach Nick Anderson of Running With Us, but we only repeated the above twice, which is shorter than the full session Arter would do.
"I'd probably do that six to eight times," says Arter. "You're not trying to get quicker throughout the session, you're just trying to maintain that pace, so it's important to get the two paces right so you can continue through the whole session. There's no point going off too hard and only getting in two or three good reps."
Workout 2
This is a great session to do on the track, but be warned – it's not for the faint-hearted. Run 20 reps of 400m, taking a 45-second recovery between reps. Again, aim for consistency, which means keeping a close eye on your pace at the start of the session because 20 reps is a lot of reps.
You can also do your reps based on time, if you don't have easy access to a track. Run 20 reps of 60-70 seconds of hard effort, with 45 seconds' recovery between reps.
Workout 3
Another long, tough session that's best done on a track. Run 1,000m, 800m, 600m and 400m, taking two minutes to recover between reps, then repeat three times in total. If you want to run to time instead, go for three minutes, two minutes, 90 seconds and 60 seconds with two minutes of recovery.
See related
How To Pace A 10K
The sessions above all have the added bonus of teaching you to pace yourself, because if you go too hard early on in any of those workouts you'll struggle to maintain your speed throughout. This is a valuable lesson for 10K runners.
"Obviously at the start everyone goes off fast, but then it's about settling into your rhythm as soon as you can and making sure that you haven't gone off too quick," says Arter. "With a 10K you can't afford to do that. Over 5K you can kind of hang on, but not with a 10K. So it's about pacing it right. You should get to 5K feeling… not comfortable, but that you can push on in the second half.
"Get into a rhythm and run consistently, rather than one mile quick, one slow. Keeping that constant pace will help ensure that even if you do slow in the latter stages it's not too dramatic.
"Use people as markers too. If you have someone ten metres in front of you, they can be your target – it helps you to keep moving forward and maintaining the pace."
Charlotte Arter is a Saucony UK athlete and is supporting the launch of the Saucony Ride ISO 2
Buy the women's Ride ISO 2 from Saucony | Buy men's from Saucony | £120
Sign up for workout ideas, training advice, reviews of the latest gear and more.