The Seven Best Things To Do In Newquay, Ranked
There's no better spot for an active staycation than the Cornish Coast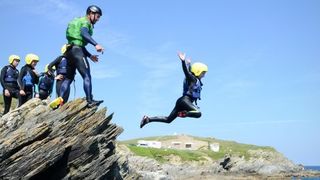 (Image credit: unknown)
Surfing and stag dos. That's what most people will know about Newquay and it's fair to say that the Cornish town excels as a destination for both. However, there is an awful lot more to Newquay, especially for those seeking an adventurous, active holiday because the list of possible activities to try there is long and varied.
Sure, (spoiler alert) surfing takes top billing, but the sea around Newquay's seven beaches – how many beaches does YOUR hometown have, huh? – plays hosts to a host of other activities too. Coach crammed as many of them as we could into a weekend, as well as sampling as much of the superb local cuisine as possible, so we could provide you with this list of seven essential things you must try on a trip to Newquay. If you're pressed for time, now you can prioritise (go surfing).
7. Run Along The Cornish Coast
There are two main reasons running along the coast – any coast – is great. The refreshing sea breeze is the first, and the second is the fact that's it's very difficult to get lost – just keep the large body of water on either your right or your left depending on which direction you're going in.
RECOMMENDED: Great Coastal Runs In The UK
Newquay's coastline is well served by footpaths to keep you as close to the sea as possible, and if you run to the tip of the many headlands in the area, there are great views looking back at the beaches and town. Look the other way and you might spot a seal or two.
6. Clamber Aboard A Super SUP
Admittedly there wasn't a huge amount of standing up on show when we boarded the massive, inflatable super stand-up paddleboard (SUP) with our instructors from Newquay Activity Centre for a Super SUP Session (£40pp). After a couple of unwanted dips we opted to return to the more stable platform of our knees, but it turns out you don't need to stand on two feet to enjoy paddling around the sea.
SUP, whether super or regular, is an altogether more relaxing way to spend time on the water than surfing or bodyboarding, making it a great way to unwind. That is, until you start playing super SUP games, which generally involve trying to tip someone else into the water without falling off yourself. Cue more unwanted dips.
RECOMMENDED: The Best Adventure Holidays In The UK
5. Indulge In Some Of The UK's Finest Ales
Two of the best ales you can find on tap anywhere in the UK are Tribute and Doom Bar, both of which just happen to originate in Cornwall. Just as Guinness gets better the closer to Dublin you drink it, enjoying a pint of Tribute in the heart of Cornwall improves its flavour. There's also have chance to sample rarer beverages produced by the St Austell Brewery. Our favourites included Big Job, a 7.2% double IPA, and Sayzon, which is – yes – a saison (a type of fruity, spicy pale ale).
4. Go Bodyboarding
Surfing (hang tight, it's coming) is both tricky and tiring. For an easier way to catch some waves, grab a bodyboard instead. This smaller board is easier to carry out to sea, and even rank amateurs – and we were the rankest of amateurs – can ride waves after a few pointers from an expert. You can hire a board and head straight out to sea, but taking at least one lesson to learn proper technique and ocean etiquette is definitely worthwhile – we took a two-hour class with the Fistral Beach Surf School (£35pp for a group lesson).
3. Eat Pasties, And Seafood, And Cream, And… Just Keep Eating
The drinks are good in Cornwall, but the food is even better. Which is handy, because you'll be burning bucketloads of calories spending so much time in the sea. The seafood is immense, of course, and it's illegal – actually, genuinely illegal – to leave Newquay without eating at least one pasty.
Then there's the clotted cream, which is used to make Cornish fudge and ice cream. It's not easy to make fudge and ice cream better, but that's what the fine people of Cornwall have managed.
If you worry that all this sounds incredibly calorific, trust us when we say you'll need the energy for surfing, swimming, bodyboarding and everything else you do. As an example of what you can get away with, here is what our surf instructor told us he ate for breakfast to try and maintain his weight when spending all day in the water: one full English, one bowl of cereal, four crumpets and a pastry.
RECOMMENDED: The Best Activity Holidays in the UK and Ireland
2. Jump Off Some Cliffs While Coasteering
The rocky coast around Newquay is one of the best places in the UK to try coasteering, which broadly means making your way along the coast either by swimming or clambering. If you're chasing a jolt of adrenaline, you'll be amazed at how exhilarating it is to allow yourself to be swept in and out of little inlets by the powerful waves (you wear a helmet because of all the rocks), but the true thrills come when you climb to the top of a cliff and leap into the sea. On our trip with Newquay Activity Centre (£59pp for Super SUP plus coasteering), our jumps topped out at around 20ft (6m), but they take groups – braver groups – up to the 30ft mark. For an extra buzz, try closing your eyes before jumping.
1. Go Surfing, Obviously
Addictive, infuriating, exhilarating, absolutely knackering – just a few of the words that describe surfing. Which of those words spring to mind first will probably depend on how your last attempt to catch a wave went, but it's "addictive" that really nails it, because once you've given surfing a try you will immediately start planning your next trip.
We took a two-hour lesson with Newquay Surfing School (£30pp including all equipment; private lessons £65pp) on Great Western Beach, one of several great surfing spots in Newquay, and it was tremendous. Sure, the number of waves we actually stood up on could be counted on one hand, but it only take one small success to make hours in the water entirely worthwhile. Go surfing.
Coach stayed at the Great Western Hotel while in Newquay and tried activities with the Newquay Activity Centre, Fistral Beach Surf School and the Newquay Surfing School.
Sign up for workout ideas, training advice, reviews of the latest gear and more.