Adventurer Aaron Rolph On Why You Should Go Sea Kayaking
Take to the water on your next active holiday and see the UK in an entirely new way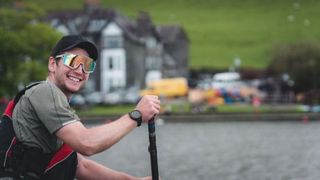 (Image credit: unknown)
If you've ever looked at the traditional 1,407km route of a cycle from Land's End to John o' Groats and thought it seemed a bit short, a bit boring, then you think in the same way as adventurer Aaron Rolph.
Rolph decided to extend the trip by starting in the Isles of Scilly and finishing in Shetland, and then added in a load of detours to visit some of the UK's most stunningly beautiful locations.
"I wanted to showcase the incredible spaces we have on offer in the UK," says Rolph. "I wanted to do a Land's End to John o' Groats adventure, but choosing an off-the-peg challenge that was quite direct just didn't feel very exciting. I wanted to get off the beaten track and see some of the best areas."
Rolph's The Great Escape trip (opens in new tab) ended up being more than 2,700km long and included kayaking, climbing, coasteering, swimming and a whole lot more as well as cycling. If you're looking for inspiration to plan a UK adventure of your own, Rolph collaborated with cycling brand Knog (opens in new tab) to create a documentary of his journey.
We were particularly taken with the sea kayaking sections of The Great Escape and so we asked Rolph to tell us more about the sport.
Why would you recommend sea kayaking to people?
It takes you to places that you wouldn't normally be able to go. You can experience nature or the landscape in a way that's totally unique. It's a cliche, but you sort of do feel at one with the water being at that level, and every time I sea kayak it feels like a nature safari as well. You see so much wildlife that you'd never experience by any other means. It's amazing.
Should you start with an instructor? What happens if you capsize?
It's worth stating that my good friend Ed came with me. He's an experienced paddler – qualified and trained – and I was able to rope him in to help me get to places that I wouldn't have been safe to go to without his guidance.
There are loads of places where you can do courses and learn the basics [go through British Canoeing (opens in new tab), the UK's governing body for paddlesports]. The aspiration for most people is to be able to roll confidently in the water if you do capsize. You've got a spray deck, which locks you into the boat with some force. It's not hard to bust out if you need to but if you have the right technique, you can right yourself by rolling.
But if something does go wrong at sea, actually you probably won't roll because they're big, heavy boats. If you're really good, you might be able to, but you're more likely to do a T rescue which is where someone kayaks in at the side, stabilises your boat, helps get you back up and then pumps the water out.
Or if it goes really wrong, then you swim out. It's not the end of the world! I think most people envisage a spray deck being firmly locked in and the idea of going upside down being quite scary, but you can fix it. I jumped in to practise and once you realise that you can get back into the boat no matter where you are, you realise you're a bit safer than perhaps you feel.
How tiring is sea kayaking?
The beauty of it is that it is low-impact, almost no impact at all. Once you condition your upper body and get your paddling technique down, then you can go for much longer than you realise. I've done maybe 50km in a day. Psychologically, paddling takes a bit of getting used to because you don't feel like you're progressing at speed. It's relatively mellow.
What safety equipment do you need?
The main thing if you're going far out to sea is to have a VHF radio for life support. Hopefully you won't have to use it, but make sure that it's in a suitable position where if something were to go wrong, you've got access to it.
You also need a personal flotation device, a life jacket. Some people carry flares. I've got a Garmin inReach, which is like an SOS device. It's tiny, just a button, and when you press that it goes through to a headquarters somewhere in the States and they orchestrate the rescue based on the location.
What are some of the best spots that stood out to you on your trip?
Scotland's always such a special place. The west coast of the Highlands is so wild and unpopulated and it feels like you're in nature the whole time. There was a peak we climbed on the coastline called Suilven. It's got such character. You're surrounded by what must be thousands of small lakes and then the sea right in front. To have such a peak just on the coastline feels really special.
The Isles of Scilly are definitely up there too. Then around Jura in the inner Hebrides there's nice whisky and good paddling. But there is a big whirlpool near Jura, so it's not for beginners.
Is it worth practising on rivers before heading for the sea?
You can do some lower-grade river paddling to get your skills up. That feels very safe and not too hectic. If you're doing grade one white water up to grade two, it's very mellow. Grade three is starting to get more interesting. A lot of those handling skills will transition into sea kayaking. If you're comfortable with how the boat moves, and running eddies and flows and all the rest of it, you'll be able to use the same skill set.
Given the complexity of water movements, and how they can change so quickly, you've got to understand the theory a lot more with sea kayaking.
See related
How do you judge the conditions to make sure it's safe?
I've got this notoriously optimistic perspective, so maybe I'm not the right person to ask! But you can look at the swell. You can look at the wind patterns. There's an app called Windy which is really useful. It graphically shows you the wind movements throughout the day.
Probably the biggest complexity when sea kayaking, as far as I can tell, is tidal movements in more complex areas of islands where you get channelling and and bottlenecking of water. That's where the tides really ramp up. We went for a paddle a couple of weeks ago where the tide rose, and we hit about 25km/h! I cannot paddle 25km/h. There was funky stuff going on in that water.
Sign up for workout ideas, training advice, reviews of the latest gear and more.