How To Do The Sumo Deadlift
Adopt a wider stance for a deadlift variation that lessens the load on your lower back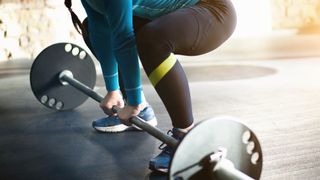 (Image credit: Shutterstock)
The deadlift is one of the most important exercises in any serious gym-goer's locker, but it's also one that can be tough to get to grips with, especially when you're relatively new to the weights room. Small flaws in your technique can lead to potentially big injuries, particularly to the lower back, and so it's certainly a move you should be careful with until you know your form is spot-on.
So if you are worried about the load on your lower back, the sumo deadlift is a great alternative to try. It's a simple variation in which you adjust the width of your feet, a change that moves your upper body closer to the ground and so reduces how far you have to lean over to grab the weight.
By changing your stance you also shift the focus of the exercise off your hamstrings on to the glutes and hips. Doing deadlift variations like this hits the key muscles at a different angle from the standard move, so you will find that the sumo deadlift ultimately improves your performance in the deadlift proper. That means that even if you're certain your deadlift form is on point, it's worth adding the sumo variation to your gym routine.
How To Do The Sumo Deadlift
Stand with your feet wider than shoulder-width apart, and your toes pointing out at a 45° angle, rather than straight ahead. Bend at the hips to lower and grab the bar. Opt for whatever grip you normally use for a deadlift, whether that's overhand or a mixed grip, with one underhand and one overhand.
Make sure your back is flat in this bottom position and be careful not to round it at any point during the exercise. Drive through your heels and extend your knees and hips to lift the bar to mid-thigh height. Pull your shoulders back at the top of the move, then carefully lower the bar back to the ground, still being mindful not to round your back.
More Form Guides
Sign up for workout ideas, training advice, reviews of the latest gear and more.