The Best Stretching Exercises For Gym-Goers
Use these five stretches to keep yourself limber and improve your performance in the gym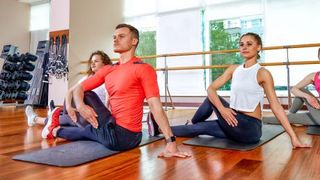 (Image credit: unknown)
Everyone, and we really do mean everyone, should be stretching regularly. However your job takes its toll on your body, and whatever your favourite activities and types of exercise are, a little bit of stretching goes a long way to helping you stay in good working order.
If you're a gym-goer, stretching is vital to keep your muscles flexible and to help you to recover after tough sessions. Not only will regular stretching reduce your risk of injury, it will help to improve your performance whether you hit the gym to lift heavy weights, power through high-octane HIIT classes, or gravitate towards the cardio machines.
Below you'll find five stretches from Cristina Chan, head of recovery at F45 Training (opens in new tab), that will help you to ace every gym session. Aim to run through these stretches a couple of times a week, doing each pose for 30-60 seconds.
The Benefits Of Stretching For Gym-Goers
But first, here's Chan with more about why it's worth stretching.
It keeps the muscles flexible, strong and healthy
Ultimately, stretching is a preventive measure to reduce your risk of injury over time. A flexible muscle is less likely to become injured if you turn in an unusual way or have to make a sudden move.
It increases your range of motion
Stretching helps improve your range of motion which translates to better mechanical efficiency. A flexible joint requires less energy to move through a wider range of motion. This efficiency displays itself in the quality of your workout and overall muscle movement.
It promotes circulation
Stretching increases blood supply and oxygen to your muscles and joints, allowing greater nutrient transportation and improving the circulation of blood throughout the entire body. Better circulation translates to quicker recovery, aiding the relief of any post-exercise aches and pains.
It helps reduce or manage stress
Our muscles can tighten up in response to both physical and emotional stress. Stretching helps relax tight muscles, while moving intentionally and slowly allows you to take time to breathe, notice your surroundings, pay attention to yourself and decompress. When your breath and heart rate slow down, you become calmer.
It improves posture
Stretching can help encourage proper spinal alignment. A combination of stretching and corrective exercises is one of the most effective ways to reduce symptoms of poor posture in areas including the shoulders, back and hip complex.
The Best Stretching Exercises For Gym-Goers
Start on all fours. Push into your hands and raise your hips as you straighten your legs. Bend one knee and then the other to gently stretch the back of each leg.
2 Cat-cow
Begin on all fours. As you inhale, drop your belly and arch your back, but keep your shoulders rolled back, and look slightly up towards the ceiling – this is cow. As you exhale, press your hands into the ground and round your upper back, tucking your chin into your chest and looking down – this is cat. Continue moving, arching on your inhales and rounding on your exhales.
3 Child's pose
From all fours, bring your big toes together. Sit backwards, taking your hips as close to your heels as possible, reach your arms forward and rest your forehead on the ground. Hold this position.
See related
4 Seated twist
Sit on the floor with your back straight and legs extended. Bend your left leg at the knee, then place your left foot on the right side of your right leg. Turn your upper body so it faces left. Repeat on the opposite side.
Lie on your back with your knees bent and feet flat on the floor. Raise your pelvis up as much as you can. Hold and breathe in, then lower your hips as you exhale.
Sign up for workout ideas, training advice, reviews of the latest gear and more.