The Addictive Delights of Bouldering
Coach gets hooked on bouldering. Try it yourself at climbing centres in and near London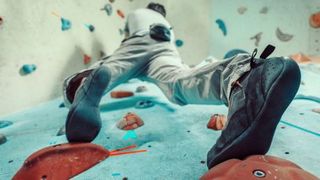 (Image credit: Unknown)
What is Bouldering?
There wasn't an awful lot to love about Mission: Impossible II, starting with the fact that its prequel proved those missions were actually possible, but the rock-climbing scene from the opening credits has stuck in the mind of most who saw it. Tom Cruise hanging off the top of Dead Horse Point in Utah without a safety rope in sight… what an opening, what a man. Admittedly no sane person would wish to do that – but if you want to try the next best thing, bouldering could be for you.
There are no ropes in bouldering, because you don't climb that high. The challenge is devising a route up a short climb, as well as the strength and flexibility required to complete it. You can head to the great outdoors to boulder, but there are plenty of indoor options, too.
What's Bouldering Like for a Beginner?
To get to grips with bouldering, Coach tried an introduction session at the Arch Climbing Wall in Bermondsey.
In an hour, you're taught the basics – you can't just head up a wall, using whatever grips you like. The routes are colour-coded and graded for difficulty, so you can only use the holds matching the route you've picked. You'll also get a first taste of climbing shoes, which are deliberately tight and uncomfortable.
It's intimidating to start with, but once you get on the wall it's easy to see why the sport is frequently described as addictive. You also don't need Cruise's rippling physique. The starter routes are set up to be open to anyone.
Where to Boulder in and Near London
The Arch Climbing Wall
This bouldering centre has numerous routes to conquer, training areas, and offers introductory sessions for newbies. The Arch also has a new centre in Burnt Oak for those who don't want to venture south of the river. The Biscuit Factory, 100 Clements Road, Bermondsey, SE16 4DG, introductory session £20, single admission £10 (£7.50 off-peak), monthly pass £50, annual pass £400. archclimbingwall.com (opens in new tab)
The Castle Climbing Centre
Both bouldering and towering climbing walls are on offer in what was once a Victorian water pumping station, but is now the most visited climbing centre in the UK. Green Lanes, Stoke Newington, London, N4 2HA, taster session £22, single admission £12.50, monthly pass £67, annual pass £475. castle-climbing.co.uk (opens in new tab)
Bowles Rocks
If indoor bouldering makes you keen to try it on real rocks, the Bowles Outdoor Centre in Kent has plenty of sandstone to clamber over. Sandhill Lane, Eridge Green, Tunbridge Wells, TN3 9LW, single admission £5, bowles.ac/outdoor-activities (opens in new tab)
RECOMMENDED: The Best Places to Go Rock Climbing in London
Sign up for workout ideas, training advice, reviews of the latest gear and more.