Someone Please Bring Augmented Climbing to the UK
The augmented climbing revolution has arrived, but only in Finland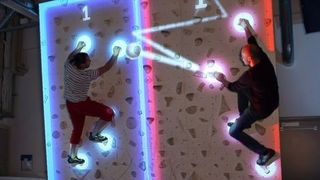 (Image credit: Unknown)
Only the most masochistic can sustain a fitness regime they don't enjoy, so it's always music to Coach's ears when someone attempts to make exercise more entertaining, and few things sound as fun as clambering around a climbing wall attempting to splat virtual bats.
That's just one of the games on offer with the Augmented Climbing Wall. Created by a Finnish startup with the aim of making climbing, already a pretty enjoyable pursuit, even more exciting. Games are projected onto the climbing wall, and respond to how the players move via a variety of sensors that effectively turn the wall into a giant touch screen.
All you need is a climbing wall, which is admittedly a tall order for most homeowners. However, with luck, the Augmented Climbing kit will be taken up by bouldering centres around the world, as international orders are now available. Given the games and apps available on the Augmented Climbing Wall, it's well worth petitioning your local centre to be the first to embrace the tech.

RECOMMENDED: The Best Places to Go Rock Climbing in London
The Games
There are currently four games available with the Augmented Climbing Wall, with fresh developments in the works.
Whack-a-Bat
Scamper around the wall as fast as you can to deal with the bat infestation that has taken root in this endurance game.
Augmented Problems
This might be the best feature of all. The Augmented Climbing System allows users to create and project an unlimited amount of routes onto the same wall, so you never run out of new upward paths to conquer. There's even an interactive teacher mode, where beginners can follow 
a virtual climber up to the top.
Climball
Two players mount the wall and bat a ball back and forth, air hockey style, until one manages to sneak it past their opponent and score.
Sparks
An electric maze is projected onto the wall. Climbers can use any holds they like, as long as they don't come into contact with the fizzing beams of electricity.
Sign up for workout ideas, training advice, reviews of the latest gear and more.