Europe's 25 Best Cycling Routes
According to new book Ultimate Étapes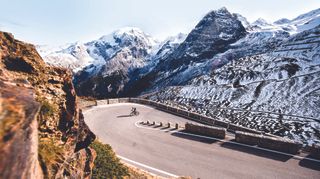 (Image credit: Unknown)
Image 1 of 14
Ultimate Etape
Luchon–Bayonne, 326km
Credits: Photograph: Gruber Images
Ultimate Etape
York–Sheffield, 201km
Credits: Photograph: Gruber Images
Ultimate Etape
Camberley–Brighton, 226.5km
Credits: Photograph: Gruber Images
Ultimate Etape
Utrecht–Zeeland, 166km
Credits: Photograph: Gruber Images
Ultimate Etape
Bruges–Meerbeke, 258km
Credits: Photograph: Gruber Images
Ultimate Etape
Lannilis–Lannilis, 204km
Credits: Photograph: Gruber Images
Ultimate Etape
Bellinzona–Grindelwald, 171.4km
Credits: Photograph: Gruber Images
Ultimate Etape
Bellinzona–Grindelwald, 171.4km
Credits: Photograph: Gruber Images
Ultimate Etape
Chamonix–Alpe d'Huez, 184.5km
Credits: Photograph: Gruber Images
Ultimate Etape
Merano–Aprica/Valtellina, 195km
Credits: Photograph: Gruber Images
Ultimate Etape
Merano–Aprica/Valtellina, 195km
Credits: Photograph: Gruber Images
Ultimate Etape
San Gimignano–Siena, 200km
Credits: Photograph: Gruber Images
Ultimate Etape
Chiavari–La Spezia, 150km
Credits: Photograph: Gruber Images
Ultimate Etape
Ajaccio–Calvi, 145.5km
Credits: Photograph: Gruber Images
The end of October is a bleak time for the UK's cyclists. Winter's nip is starting to enter the air, along with plenty of rain, and the clocks going back ensures that evening commutes are set to be made in the dark right through until March next year.
Coach has, therefore, set out to cheer up the country's cyclists this week, with our bucket list feature listing 10 different dream trips on two wheels. For further inspiration for planning next year's cycling adventures, you can now turn to a new book Ultimate Étapes, which details Europe's 25 best rides.
Almost all of the most famous routes from great events like the Tour de France are present and correct, including the hellish climb up Alpe d'Huez and Roubaix's brutal cobbles. There are also stunning routes through the Black Forest and winding around endless hairpins on Corsica. There's even a couple of more local rides to enjoy, one from the Tour's Grand Depart in Yorkshire in 2014, and another tackling the hills of the South Downs.
RECOMMENDED: Five Gruelling Tour de France Ascents that You Can Ride
The routes are illustrated with stunning photography to whet the appetite, and each has a detailed guide of what riders can expect in terms of hills, terrain and points of interest along each. Author Peter Cossins also gives each stage's history as part of professional races, which is something to think about when you need to take your mind off the burning pain in your legs on the climbs.
Ultimate Étapes by Peter Cossins is published by Aurum Press (£20 Hardback). Buy on amazon.co.uk.
Sign up for workout ideas, training advice, reviews of the latest gear and more.