Olympic Champion Flora Duffy's Indoor Cycling Tips
The triathlon gold medallist shares her advice for staying motivated and how to judge your workouts when indoors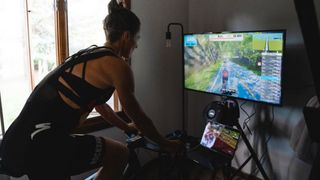 (Image credit: unknown)
Indoor training gets a bad rap. While it's true that cycling or running outside brings with it certain benefits you can't replicate indoors, jumping on an exercise bike, turbo trainer or treadmill is hardly the torture it's often made out to be, especially with the virtual training apps available nowadays.
Many pro cyclists and triathletes spend a lot of time training indoors, especially in the winter months and, of course, during the past 18 months when having to isolate after travel. The extra indoor training she had to do did nothing to stop Flora Duffy from excelling at the Tokyo Olympics, where she won gold in the triathlon for Bermuda.
Here Duffy, a Hammerhead (opens in new tab) ambassador, offers her tips for training indoors, including how to stay motivated, and the key metrics to pay attention to.
Get on Zwift
"Using Zwift keeps me moving," says Duffy. "I can see who else is riding at the same time as me, and sometimes even recognise the names so it's as if I'm riding with a group of friends. I love seeing someone I know on there – it boosts my motivation and sense of camaraderie. The Zwift graphics are so unbelievably good too, you'll be blown away if you've never ridden 'virtually' before."
Pick the right sounds
Some cyclists prefer not to listen to anything when riding outdoors, but there's no need to limit yourself when indoors. While Zwift provides something to look at, Duffy likes to listen to podcasts during easy rides and music when doing harder intervals.
Focus on your key metrics
Duffy uses the Hammerhead Karoo 2 bike computer (opens in new tab) during her sessions, and her key stats to monitor include power, heart rate, lap time and elapsed time. Even if your stats will vary slightly compared with riding outdoors, they are still just as useful for getting your training intensity right.
"If I'm focused on a particular session, then I will analyse these metrics as I would do for any outdoor session, and I really focus on power zones to ensure I'm getting exactly what my coach Nate has prescribed," says Duffy. "While the metrics may differ between an indoor and an outdoor ride, that's OK – I'm able to understand the differences in my performance within different settings. Generally my heart rate can get a little higher relative to power if I am getting hot inside without wind chill."
See related :
Enjoy your environment
Let's be frank, being outdoors isn't always that great. It can be too hot, too cold, wet and/or windy, all on the same ride. When riding indoors your environment is much more controlled, which allows you to focus on your training.
"When I ride indoors with my head unit, I can focus on my average power, current power and three-second power output, which are critical in making sure I can push myself each session," says Duffy.
Spend the time you save on recovery
"Of course people's first choice is to ride outside, but training on a bike inside actually has a lot of benefits, including being able to be very efficient with your time," says Duffy. "You can get a really great workout in 45 minutes to an hour on the bike indoors, whereas it would take longer if you did that outside between things like getting dressed, traffic lights and stops."
"Before the World Triathlon Championship, I would do a 45- to 90-minute workout, then go right back to rest, recovery and hydration."
Sign up for workout ideas, training advice, reviews of the latest gear and more.