Boost Your Bike Confidence And Join More Women Cycling To Work
Cycle commuting is cheaper, faster, better for the environment and for our health, so what's holding us back?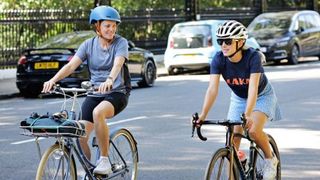 (Image credit: unknown)
After yet another sweaty public transport commute squashed into someone's armpit, or inhaling polluted air while sitting in another traffic jam, perhaps you're thinking about taking the leap and cycling to work? You're not alone.
A 2017 Sustrans survey (opens in new tab) found that 30% of women in cities across the UK would like to cycle but don't. We know that cycling is cheaper, quicker and better for the environment, and that getting some exercise is good for our health. So what's holding us back? Worries about safety on the roads, a lack of confidence and fear of harassment have all been cited as reasons women don't cycle more.
According to an independent survey commissioned by LAKA, a specialist cycle insurance company, a whopping 42% of women nationwide do not feel confident riding a bike on roads.
Coach went for a cycle in London with Olympic cyclist and LAKA ambassador Elinor Barker, and as we tried our best to keep up with her, she gave us some advice to help us feel more self-assured when riding on the roads.
Build up your confidence
If you're really nervous about riding your bike on the roads, there are group cycle classes you can take to build up your confidence, such as those run by Cycle Confident (opens in new tab). Then head out on your bike when the roads are quieter. "You can even practise the whole commute ahead of time," suggests Barker. "It just takes the pressure off that first time you head off in rush hour traffic."
Know your route
It's a good idea to know your route before you set out. "There are loads of apps that can help you plan a good route when cycling," says Barker. "Komoot is one that's really good, and of course Google Maps is very useful. If you're really feeling nervous about where you're going, it takes a bit of time but it really helps to have a look at your route on Google Streetview, so you can get an idea of what to expect before you set off."
Be visible
You'll need lights on the front and back of your bike if you're planning to commute as you're likely to have to cycle in the dark at some point. Although you may not be keen to look like a lollipop lady, it's a good idea to wear something that's really visible, like a gilet. "I have this luminous pink gilet with reflective elements – it's super-useful as I can put it on over whatever combination of layers I need that day."
See related
Look after your bike
You don't need the most expensive, newest or speediest road bike – almost any bike will do if you're not cycling for longer than about 30 minutes at a time – but make sure your bike is in good condition before you set out. Bike maintenance is important, as is getting it serviced regularly. Londoners can book a service through the app Fettle (opens in new tab) – you can even opt to have your bike collected and delivered back to you.
Keep your cool
Unfortunately harassment does happen. Many women report that other road users and pedestrians shout comments that are often unpleasant. "I find the best thing to do is just to ignore it," Barker advises. "Nine times out of 10 you can just carry on and ignore the person. Sometimes I get annoyed and say something, but generally if you respond it doesn't actually help – they never end up thinking, 'I shouldn't have said that'."
Ride with conviction
Brush up on the Highway Code if necessary. Use clear hand signals and take your time when you need to. However, if you come to a busy junction and you're not feeling confident about turning across the streams of traffic, you can always dismount and cross at the pedestrian crossings.
For more information and to read more about Barker's tips on staying safe while cycling visit laka.co/womens-cycling (opens in new tab)
Sign up for workout ideas, training advice, reviews of the latest gear and more.
Camilla Artault is a writer and keen runner. She has covered women's running gear – testing leggings, jackets, running bras, tops and shorts – for Coach since 2018, as well as interviewing experts and writing about a range of health and lifestyle topics.