What Is The DASH Diet And Can It Help You Lose Weight?
Looking for a new healthy eating strategy? Try the BEST DIET IN THE WORLD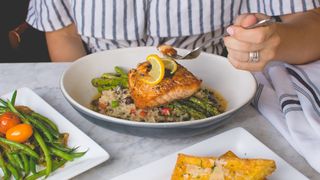 (Image credit: Unknown)
Every year a new batch of fad diets makes headlines and every year flocks of people try those fad diets hoping to lose weight, only to find the regime impossible to stick to, reversing any successes in the time it takes to say "carbs".
If that sounds familiar, don't blame your lack of willpower – pick a diet that's made to last. The DASH (Dietary Approaches to Stop Hypertension) diet has been chosen as the best in the world for eight years in a row by US News& World Report, which recruits a panel of experts – including dietitians, academics and doctors – to review the diets du jour.
We weren't just going to take their word for it though, so for more information on the DASH diet, we enlisted an expert of our own: dietitian Emer Delaney of the British Dietetic Association.
What is the DASH Diet and is it healthy?
No surprises here – Delaney gives the DASH diet two thumbs up.
"The DASH diet is rich in fruit, vegetables, low-fat dairy products, wholegrains, pulses, fish, eggs, nuts and seeds and lean meats such as chicken and turkey with minimal salt and foods high in saturated fat," says Delaney. "Heart-healthy oils such as olive or rapeseed oils are also included.
"The diet is balanced and healthy, and should be seen as a long-term lifestyle choice as opposed to a fad diet. It is also strongly evidence-based with extensive research to support the significant positive impact on heart health and high blood pressure."
Is it a diet for everyone, or only if you have certain medical conditions?
Given that "Stop Hypertension" makes up half the DASH acronym, you might assume that it's a diet only worth considering if you are worried about your blood pressure. In fact, the heart health benefits of the DASH diet apply to almost everyone – and there are other pluses besides.
"The diet is primarily designed to help treat or prevent high blood pressure," says Delaney. "However, more recent research suggests it may be beneficial in reducing inflammation markers, lowering the risk of developing kidney disease – a common complication of hypertension – and decreasing levels of low-density lipoproteins, which we know is a risk factor for cardiovascular disease."
Is there a vegetarian version of it?
When we said the benefits apply to almost everyone above, we meant all meat-eaters. Although the diet recommends eating more plants in general, the evidence isn't there yet for a fully veggie DASH diet.
"The research to support the effectiveness of the DASH diet includes the consumption of lean meat, poultry and fish," says Delaney. "These contain specific vitamins, minerals and omega 3 oils which would be difficult to replicate with a vegetarian version of the DASH diet. The evidence to support a vegetarian version of the DASH diet is lacking, so it can't be recommended if you're looking for the same effects."
See related
Five Ways To Make Your Diet More DASH
1. Just add vegetables
The simplest change you can make is to add an extra serving of vegetables to one meal each day. Make more veg the norm, then work on the rest of your plate.
2. Slim down your meat portions
Your lean meat portions should be the size of a deck of cards (which must be one of the most widely-ignored bits of dietary advice out there). Assuming you're eating bigger portions than that, try cutting them back gradually over time, and bulking up curries and stews with legumes rather than meat.
3. Add two meat-free meals a week
Going meatless for two dinners a week will expand your cooking repertoire. Eat more nuts, seeds and legumes on these days to nail your nutritional requirements.
4. Go spicy, not salty
Raid the spice rack when cooking to add flavour to your meals without needing to add salt. And if you usually have a salt shaker on the table, put it at the back of your cupboard.
5. Up your wholegrain intake gradually
The DASH diet recommends eating more brown rice, wholewheat pasta and other wholegrain carbs, but don't go from zero to fibre hero in one go, or you might experience some gastric, er, discomfort. If you slowly increase your intake over a few weeks the whole process will be more pleasant, which in turn will make easier to stick to.
Sign up for workout ideas, training advice, reviews of the latest gear and more.