This Dumbbell HIIT Workout Pushes You Harder Than Other Home Sessions
Challenge yourself with this strength session, where the breaks are determined by how fast you work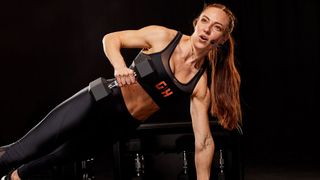 (Image credit: Grndhouse)
It's essential to push yourself to get the most out of HIIT workouts – the first two initials stand for "high intensity" after all – but this is something that can be tricky to do at home, when the only person motivating you to work hard is yourself. This dumbbell HIIT workout makes it much harder to ease off the gas, however, because the time you get to rest depends on how fast you complete your reps.
Jay Copley, co-founder of online studio GRNDHOUSE (opens in new tab), put this full-body dumbbell workout together for Coach. It's an EMOM workout, which means you have to complete a set amount of reps in a minute, and then rest for the remainder of that minute before starting your next set.
It contains three sections that all involve working as fast as you can. It's a great way to maintain the intensity of studio classes at home, and all you need to do it is a pair of dumbbells – our round-up of the best dumbbells will help you find a pair if you're in need.
Dumbbell HIIT Workout: Section 1
The session begins with a 10-minute EMOM routine.
"You have eight reps of two exercises to complete each and every minute," says Copley. "If you complete the two exercises in 40 seconds, you've earned yourself a 20-second break before round two starts. Can you push through the leg burn and complete the 10th round?"
Once you've completed all 10 rounds, take a two-minute break.
Reps 8
"Hold the dumbbells under your chin and perform a squat," says Copley. "Focus on keeping your weight on your heels and driving your hips back and down."
Reps 8
"You can do this without weights or with dumbbells in each hand," says Copley. "Take a large step back with one leg, lowering until both knees are at right-angles, then drive back to the starting position." Alternate sides with each rep.
Dumbbell HIIT Workout: Section 2
"With this part of the workout we focus on how well adapted your body is for recovery and pace," says Copley.
"Perform six reps of each exercise within the time set for each round. In round one you have 90 seconds to execute the exercises – this will give you plenty of time to perform each movement under control and focus on form, balance and correct execution.
"The remaining time is for recovery, so if it takes you 45 seconds to complete you've earned yourself a 45-second break before you start the next round. Round by round, the time you have to complete the movements drops, requiring you to increase your work rate and intensity. Can you get to round six?"
Round one – 90sec
Round two – 80sec
Round three – 70sec
Round four – 60sec
Round five – 50sec
Round six – 40sec
After you've completed all six rounds take a two-minute rest.
Reps 6
"Start in a high plank position holding two dumbbells," says Copley. "Alternate lifting the dumbbells to your chest until your elbow is at a 90° angle. Try to avoid moving your hips and engage your core throughout."
Reps 6
"This movement will build upper-body and core strength," says Copley. "Start in a high plank position. Lower your body towards the ground, then push back up into the start position."
3 Sprawl
Reps 6
"These are like a burpee without the jump," says Copley. "Stand with your feet shoulder-width apart. Drop your hands to the floor and kick your legs back to land in a low press-up position. As soon as you land, jump back up into the starting position."
Dumbbell HIIT Workout: Section 3
To finish the session, Copley has combined the exercises from sections 1 and 2, and given you two minutes to complete all the reps and to rest. Repeat this five times in total.
1 Front squat
Reps 8
2 Reverse lunge
Reps 8
3 Renegade row
Reps 6
4 Press-up
Reps 6
5 Sprawl
Reps 6
---
More EMOM Workouts
Sign up for workout ideas, training advice, reviews of the latest gear and more.