The Gocycle GS E-Bike Is Now Under £2,000
This brilliant electric bike has had £500 knocked off its price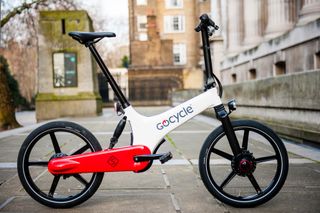 (Image credit: Unknown)
While we're a fair way off leaving our places of residence for anything but essential reasons, once the current restrictions are lifted you can be sure things won't immediately go back to the way they were. If owning a car isn't practical where you live – a city centre for instance – you may wonder how you're going to get around. Crowded public transport seems like it will be inadvisable for a long time after limitations on movement are relaxed.
A bike is an obvious and affordable choice, but if you anticipate travelling considerable distances daily it's certainly worth considering an e-bike.
One that city-centre dwellers in particular might want to consider is the Gocycle GS, especially as it's just had its price reduced from £2,499 to £1,999. If you plan to use it to commute to work and can access a Cycle To Work scheme, you'll be able to knock that price down even further – by up to 39%. (NHS workers in London can get a free three-month loan of the GS or other e-bikes from Fully Charged. Register your interest here.)
The Gocycle GS can be packed down to make it easier to stow away in a cupboard when not in use. It's not a full folding bike like the Gocycle GX (from £2,899), which has a hinge in the middle of the body, but being able to reduce its size is handy for anyone lacking space for a full-size bike.
The eye-catching design of the bike isn't just a way to attract admiring glances. Having the gears and chain stowed away in the magnesium frame rather than exposed means you'll avoid getting any mess on your clothes, as well as reducing the amount of maintenance required. The diagonal seat post also means the distance between the seat and handlebars is closer to a full-size bike than a folding one, which we found felt more natural (as a gangly six-footer).
At 16.5kg, it's lighter than most e-bikes, and that plus the lack of a crossbar makes it relatively easy to carry up stairs. It's always one of our key considerations when trying out e-bikes, because everyone – including flat-dwellers who live up one or more flights of stairs – will want to keep such an expensive ride indoors.
See related
With a range of 40 miles (64km) the Gocycle GS should be able to handle whatever trips you need to make in a day, and you can recharge the battery overnight.
If you buy the bike now, which comes in white/red, grey/black or white/black, you also get a free Gocycle Portable Docking Station, which can be used to store and transport the GS. The storage is particularly useful, helping you to keep it in a cupboard or neatly in a corner of a room.
Even at its reduced price the Gocycle GS still requires a considerable outlay, and our electric bikes round-up includes some great, cheaper options. However, its stowable design and array of clever features make it a standout option for some commuters.
Buy from Gocycle | £1,999 | Gocycle GS review
Sign up for workout ideas, training advice, reviews of the latest gear and more.