Bkool Smart Bike Exercise Bike Review
This smart bike is a great pick for spinning fans, but the closed Bkool ecosystem will be off-putting for some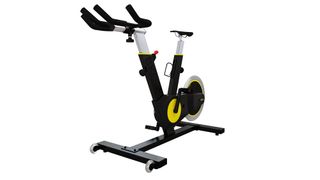 (Image credit: Unknown)
When setting up an indoor cycling session it's absolute vital to have some kind of entertainment available, because nothing saps motivation quicker than the uninspiring, unchanging sight of a wall. With the Bkool Smart Bike, boredom need never be a concern again because of how fluidly it links with the Bkool simulator.
The simulator is an online platform chock full of different ways to entertain yourself while cycling on a linked Bkool bike. There are workout classes, videos and 3D renderings of routes from all over the world, and even velodrome sessions. It's an incredibly varied offering and the Bkool Smart Bike's ability to link seamlessly with the simulator is its star feature, although the reliance on the simulator is also, in some senses, a limitation.
Once the bike is set up you pair it with your laptop (or any internet-connected screen) via an ANT dongle and to your phone via the partner Bkool Remote app. The bike has a phone mount on the handlebars, which expands to handle phablets easily. Controlling the resistance on the bike can only be done through the simulator or the phone app, so you will need to connect something, but fortunately this is easily done and I didn't have any dropouts when using the bike.
You get three free months of premium access the Bkool simulator when you buy the Smart Bike, which is a bit of a swizz in my opinion, especially considering how reliant the bike is on the simulator. You can't currently link the Bkool Smart Bike to rival simulator Zwift, for example, even though all the tech seems to be in place for the bike to work with the rival platform. There is a free version of the Bkool simulator, but it is very basic compared to the premium offering. Effectively, if you have the bike, you are pretty much forced to pay the £7.99 per month (£78 per year) for premium access, which seems a little galling on top of the £1,199 the bike itself costs.
Once the simulator is set up with the bike, the first thing to do is a functional threshold power test (FTP). There are five- and 20-minute tests, neither of which are any fun at all, of course, but you need to get through them to get the most from the trainer. Once you log your FTP score with Bkool, it will use this to automatically adjust the resistance on the bike in classes and workouts so you are working at exactly the right level for you. It's brilliantly implemented and means all you have to do in classes is ride, without worrying about fiddling with the resistance.
This smart integration makes the simulator spinning classes comfortably the best part of riding the Bkool Smart Bike. It's a very smooth and engaging experience that is automatically tailored to your level, and there are a massive range of classes to pick from. An on-screen trainer talks you through each class, with a graph overlay giving you a visual representation of what's to come. Transitions between each section of the workout are fairly smooth, even when jumping from easy riding to your FTP or above.
See related
Unfortunately, the same is not quite true of the virtual rides, which are perhaps the more exciting feature on paper. The simulator includes video or 3D routes from all over the world. From classic Alpine climbs to easy loops of Central Park, you can ride anywhere, and even upload your own rides to replicate through the simulator. As an example of the range available, I am currently training for the Coast to Coast adventure race in Scotland and I was able to find 3D routes for the cycling sections in the event on the Bkool simulator.
However, when you actually ride the routes it's nowhere near as smooth an experience as the classes. Rides are broken down into short sections and if the gradient changes by more than a couple of percentage points the Smart Bike becomes unnaturally jerky to ride. After flying down a climb you'll hit an uphill section and immediately lose all momentum as the bike automatically cranks up the resistance. It's just not a realistic representation of what riding a bike outside feels like. Turbo trainers, including Bkool's own Smart Pro 2, are invariably better at nailing this simulation of reality, but even with that in mind I was still disappointed by how jerky the ride felt on the Smart Bike.
It's also astonishingly hard to ride uphill in these simulators. I'm not an expert cyclist by any means, but I know what a 10% gradient feels like on a bike, and it shouldn't require an immediate shift to the lowest gear and standing on the pedals just to move forwards, as it did with the Smart Bike. For this reason, using the simulator to tackle famous climbs like Alpe d'Huez, which have sustained sections at a 10% gradient or above, is not so much an enjoyable challenge as an interminable nightmare.
It doesn't help that changing gear in these virtual routes is done through the partner phone app, especially when you have to shift down quickly when you suddenly hit an uphill. Given its position on the bike's handlebars, my phone was inevitably in the firing line of drops of sweat, which made the touchscreen tricky to use. I also wasn't that delighted at the idea of sweating on my phone each time I rode in the first place. I get that it's a smart bike, but a dumb old dial as an alternative option for changing resistance would have been welcome at least as an option.
Smart exercise bikes and turbos linked to simulators are a great way to make indoor training more enjoyable, and Bkool have more or less nailed the software side of this. However, unless you are a spinning obsessive the Smart Bike is not the best option for tapping into the world of virtual riding with Bkool. The classes function with the bike is incredibly good, and if you're spending £20 every few days on spin classes in boutique gyms then buying the Smart Bike might even make financial sense. But if you're hoping to enjoy riding the virtual routes with the bike or use other software like Zwift, then a smart turbo trainer is going to suit you better.
£1,199, buy on bkool.com (opens in new tab), check price on amazon.co.uk (opens in new tab)
Sign up for workout ideas, training advice, reviews of the latest gear and more.