What You Should Know About The Daily Mile For Primary Schools
One, it's a fun and effective way to help children be more active. Two, you can help spread the message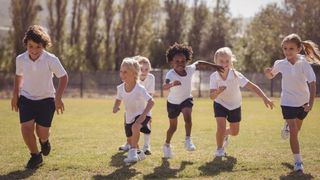 (Image credit: Unknown)
It can often feel like there's no agreement on anything, but occasionally a new idea comes along that makes so much sense that almost everyone sees that it's a good thing. The Daily Mile is one of those ideas, because it's an easy way to make children more active by making exercise fun and inclusive.
We spoke to the founder of the Daily Mile, Elaine Wyllie, about it and also Go Run For Run, which is a series of running events for children being put on around the country.
What is the Daily Mile?
"The Daily Mile is 15 minutes of exercise outside every day in school," says Wyllie. "You can run, jog or walk, but there's an emphasis on trying to run as much as possible and get fitter. There's no kit, no equipment, no training, no set-up or tidy up, and it's almost all weathers. The children average a mile and many do more. We have just under 9,000 schools signed up worldwide – about 25% of schools in England and nearly half in Scotland."
Does it take place instead of or during PE lesson?
"It's not sport or PE, but it makes children a lot better at sport and PE," says Wyllie. "We don't encroach on sport or PE territory."
What are the benefits?
The Daily Mile has been running since 2012 and early results have already demonstrated its effectiveness. A study looked at two primary schools in the Stirling area – one where the Daily Mile had been introduced and one where it hadn't – and found that the children doing the Daily Mile were significantly healthier.
"We have evidence from the Universities of Stirling and Edinburgh that it makes children fitter and faster, and have more stamina," says Wyllie. "They lose fat in their skin folds and they're mentally healthier – they have less anxiety and better short-term memory.
"The key is that it's not another initiative, a gimmick. It's here to stay – it's long-term and sustainable. If it lasted six months it would make no difference to children's health."
The Daily Mile has also just announced that Imperial College London is embarking on a three-year study to find out if participants show improved physical health and educational attainment, and whether those benefits are sustained.
See related
Should parents do it with their kids at weekends?
"There is evidence that children take it home with them, and some parents come in and do it themselves in school," Wyllie says. "But if you don't do it at home it doesn't matter – you'll still get all the health benefits of the Daily Mile. And a lot of children live in areas where it might not be safe to go out and play, so parents are happier for them to be in their bedrooms."
What is Go Run For Fun and how is it related to the Daily Mile?
"Go Run For Fun is all about events," says Wyllie. "Very lovely, child-friendly running events all around the country. The flagship one was held in Battersea Park in London recently. It looks a bit like the London Marathon – they have all the paraphernalia, the start and finish, and banners. Go Run For Fun is a special occasion with a lot of razzmatazz in a public area, whereas the Daily Mile is the day-in, day-out fitness-builder in the school."
The Daily Mile website offers resources for parents and teachers to help start running the activity at their school
Sign up for workout ideas, training advice, reviews of the latest gear and more.