You Can Win Prizes With The Fitbit X Fiit Fitness Challenge
Connect your Fitbit to home exercise app Fiit for free and complete four classes a week for a chance to win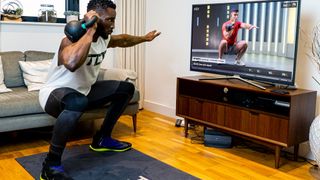 (Image credit: Unknown)
Of the many we've tried, we rate Fiit as the best workout app. It offers a large range of excellent classes with likeable instructors across different disciplines like strength, HIIT, yoga and Pilates, plus it's slick and easy to use.
Another clever trick Fiit pulls is that it can connect to external devices and show your heart rate on screen, helping you get into the right heart rate zone in HIIT sessions, and ranking your effort against everyone who's ever taken the class. Certain devices can also count your reps.
Among the devices that you can use with Fiit are Fitbit's Versa (1, 2, 3 or Lite), Ionic and Sense smartwatches. To help alert you to that fact, Fitbit and Fiit have teamed up to create the Four X Four challenge.
The challenge involves doing four classes a week on Fiit with your Fitbit watch connected. You can do any classes, and there are prizes up for grabs throughout January if you can hit the target of four a week. The prizes include Fitbit watches and Fiit memberships, as you might expect.
While Fiit normally requires a subscription (£20 a month, £45 for three months or £120 a year) it is currently offering a 30-day free trial. What's more, you can access that trial simply by entering your email address – there's no need to submit any payment information as with most other apps' free trials. If you do want to stick with the service after the trial you can do so with a 25% discount.
See related :
Once you have the Fiit app set up on your phone, you'll also need the Fiit app downloaded on your Fitbit smartwatch. To get started, open the app first on the watch and then on your phone, and you'll be able to connect your Fitbit to the phone app when you select a class. Your heart rate will be shown in the Fiit app, and you'll also see the Fiit points you earn throughout the class, though your reps won't be counted – you need the Fiit chest strap (£45) for that.
Whether or not you win a prize it's worth getting involved in the competition to keep you motivated for the rest of January, and even if you don't have a Fitbit watch you can get the 30-day free Fiit trial and take part in the challenge. Maybe you'll win a watch, and if not, at least it's 30 days of free access to the best home fitness app, at a time when we all need to stay home.
Sign up to the challenge | Free
Sign up for workout ideas, training advice, reviews of the latest gear and more.