The Apple Watch 2: A Fitness Smartwatch Superstar
The Apple Watch Series 2 is a fitness phenomenon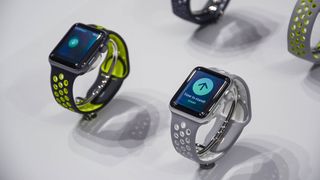 (Image credit: Apple)
The first Apple Watch was an oasis in a desert of smartwatch mediocrity. It looked great, was packed with features and had a slew of health/fitness apps that worked with it when it launched in April 2015.
But Apple being Apple, it was obvious a new version would arrive this year with significant upgrades. Since its release in September, Coach has put it through its paces and it's clear these upgrades are actually significant: built-in GPS and waterproofing.
The newest edition of the watch, the Apple Watch Nike+, features exclusive ventilated straps and faces that can take you straight to the running app. A huge campaign featuring Mo Farah and actor Kevin Hart has ensured this edition is probably the most famous running watch in the world already.
Coach has been a dedicated Apple Watch fan since day one, impressed by its fitness features and ability to go from sporty to smart with a quick change of strap. But the new version really shows what we were missing out on for the first year and a half of the product's life.
Previously an argument could be made that it was the best smartwatch on the market, but you could find better sports watches – this is no longer true. The GPS and swimming (or let's be honest, showering as well) functions, along with the noticeably improved screen brightness, mean this is a massive step up.
Image 1 of 4
Run and Ride Phone-Free
GPS capability means this is now a serious running and cycling watch; you can go for a run or ride without your phone but still listen to music (nanny Coach suggests you don't do this on a bike) and track your route. This can be done through the core Workout app or one of many dedicated apps upgraded for this watch iteration, such as Nike+ Run Club or Strava.
Previously third-party apps couldn't access real-time heart-rate data, but this has now been added to ensure you get extra feedback while on a Nike+ run, for example. With the GPS running, the Apple Watch battery life drops to five hours, still ample for all but the longest of runs, but it could mean a day's cycling is best tracked via a phone.
RECOMMENDED: 5 Of The Best Apple Watch Fitness Apps
A Watch For The Water
The waterproofing is even more impressive. There are a pair of problems most smartwatches like this come up against: water setting off the touch features of the face and water getting in through "essential" holes such as the speakers. Apple has solved the first problem by implementing a lock screen option. The latter issue was a bit more complicated but has been remedied by using the speakers to shoot out the water taken on.
If you're swimming indoor lengths you'll want to enter the distance of the pool and then you can let the watch figure out from your movement when you turn at each end. If you're swimming outdoors, the watch will use GPS whenever your wrist comes out of the water during a stroke.
Sign up for workout ideas, training advice, reviews of the latest gear and more.