This Garmin Fenix 6 Deal Is The Sleeper Hit Of Black Friday
You can get the standard Garmin Fenix 6 for just £289, and it's comfortably the best sports watch going for under £300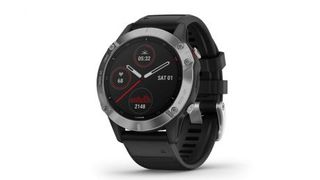 (Image credit: unknown)
The Garmin Fenix 6 (opens in new tab) is a watch that's often overlooked. It's more expensive, more impressive sibling the Garmin Fenix 6 Pro has extra features in the shape of music and maps, and gets all the headlines accordingly, including this Black Friday when the Pro has been reduced by £220 to £379 on Amazon.
However, the Garmin Fenix 6 is even cheaper than that in this year's sales, coming in at £289 on Amazon for either the 6 (opens in new tab) or £279 for the smaller 6S (opens in new tab) (which has less battery and a smaller screen). Which leads us to a key question – are music storage and colour maps worth £90-£100 to you?
Before you answer, consider this – the Fenix 6 still has excellent navigation features, with breadcrumb trails and turn-by-turn directions. It also has Garmin's ClimbPro feature, which breaks down the climbs in your route so you can see how much more elevation you have to climb on your overall route and on the current hill you're tackling.
And while the Fenix 6 can't store your music playlists, it can control playback on your smartphone. If you already run with your phone then there's little need to actually store the music on your Garmin, especially as playing music directly from the watch kills the battery life (admittedly only a concern if you wear a Fenix to run ultras).
Other than those two things, you're getting all of the amazing features that make the Fenix 6 Pro the best sports watch in the business. That includes top-notch sports tracking, advanced training analysis including insights into how well you're adjusting to heat or altitude, and NFC payments through Garmin Pay.
See related
The Fenix 6 might not be quite as good as the Fenix 6 Pro, but when you look at what else is available for around its sale price of £289, it blows everything out of the water. The design, navigation features and training analysis are better than anything else in this bracket, and the Fenix 6 also has a beefy battery life of 36 hours of GPS.
Like we say, it's easy to breeze past the Fenix 6 when you're considering the deals available on Garmin's watches this Black Friday, but at £289, this might well be the best value sports watch in the world right now.
Buy Fenix 6 on Amazon (opens in new tab) | Buy Fenix 6S on Amazon (opens in new tab) | £279-£289 (RRP £529.99)
Sign up for workout ideas, training advice, reviews of the latest gear and more.