Stand Up Paddleboarding in London
Coach dips a toe into the world of paddleboarding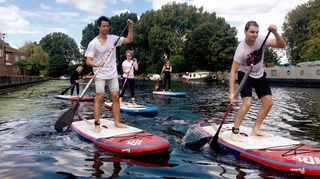 (Image credit: Unknown)
The offspring of surfing and kayaking, stand-up paddleboarding – or SUP – is a relatively recent phenomenon, conceived in Hawaii just over a decade ago, when surfers began to use paddles to control their boards. Since then it's exploded in popularity and made the (metaphorical) journey across the Atlantic to British waters.
It might take a fair amount of concentration to imagine you're a tanned young surfer gliding over Hawaii's crystal-clear blue waters as you wobble through the murky waterways of Hackney Wick trailing pondweed, but don't let that put you off trying SUP in London. The River Lea, running through the verdant Lea Valley, provides the perfect backdrop for tuning out the city, and SUP is a low impact, full-body workout that barely feels 
like exercise.
How to SUP
Unlike surfing, which involves a lot of face-plants into stinging salty water, SUP is a beginner-friendly sport. Starting out on calm river waters is ideal, and you'll be standing up, albeit with a wobble, within minutes. The key is movement – go faster to stay on the board. Engaging your core also helps keep you from taking a dip.
The best posture is to stand with legs bent, giving your thighs a workout, and hold the paddle from the top, using your core and back muscles to pull yourself (and the board) towards the paddle. Once the basics are mastered, it's all about focusing on staying straight to go faster – unless there's a boat bearing down on you, in which case it's a crash course in learning how to get out of the way sharpish.
Where to SUP in London
Kiko runs weekday and team-building SUP sessions in Richmond where you paddle to the pub and back, and weekend sessions in Hackney Wick.
Coach spent a pleasant afternoon paddling up and down the waterways of Hackney with SUPKiko. By the end the effort involved was starting to result in sore core muscles, but the session was far from strenuous, and the serene surroundings helped. There was even unexpected encouragement from beer-brandishing West Ham fans, who seemed bemused and delighted by the healthy pursuits on offer near their new stadium.
Coach didn't take a dunking and stayed pretty dry, slimy green feet notwithstanding. The taller and broader you are, the less stable you'll be – maybe bring a change of clothes.
First lesson, £35; return paddlers, £15. Claim your 10% discount with the code COACHSUP, supkiko.com
Sign up for workout ideas, training advice, reviews of the latest gear and more.