Get Involved With Sport Relief By Tackling The GO TRI Gym Challenge
Mix up your gym routine by taking on a mini triathlon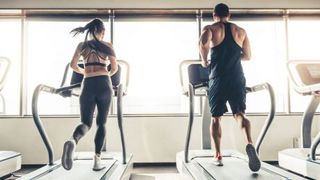 (Image credit: unknown)
We're going to go right ahead and assume you've already downloaded the Sport Relief app in order to take part in the Billion Steps Challenge, but that's far from the only way you can get active this March in order to raise money for the charity.
British Triathlon is hoping to mobilise everyone, not just the multi-sport community, to raise money for Sport Relief by tackling the GO TRI gym challenge. Rest assured this doesn't involve anything like as much effort as completing a real triathlon, and certainly avoids taking a dip in an icy body of open water – in fact you don't have to swim at all, if you don't want to.
As you'd expect, there are three parts to the challenge – a 500m row or swim, a 7.5km ride on an indoor bike, and 1.5km run or walk on a treadmill. You can do these back-to-back in one session, or complete them over a few visits to your local gym.
See related
Make sure to note your times for each aspect of the challenge and then upload them to the GO TRI website (opens in new tab). You can make your time public to see how you rank against elite athletes and celebrities who have also taken the challenge, or keep it private if you prefer. If you are hoping to appear high on the leaderboard you can prepare for the challenge using the short GO TRI exercise classes available on the Sport Relief app.
If you don't have a gym membership you can get a free guest pass to use at DW Fitness First gyms between Monday 12th and Sunday 25th March. Head to the GO TRI Sport Relief section of the Fitness First website (opens in new tab) between those dates to get your pass. If you happen to live in Newport in Wales, you can also just rock up to The Gym Group branch and tell them you're doing the challenge, and they'll welcome you with open arms.
How does this raise money for Sport Relief, we hear you ask? Good question. Well, once you've completed your challenge, or indeed before then, or frankly even if you have no intention of ever doing the challenge, you can head to the British Triathlon fundraising page (opens in new tab) and donate to Sport Relief.
Sign up for workout ideas, training advice, reviews of the latest gear and more.