This Man Is Attempting To Do More Than 10,110 Burpees In A Day
One of the toughest Guinness World Records we can imagine is in Craig Peters's sights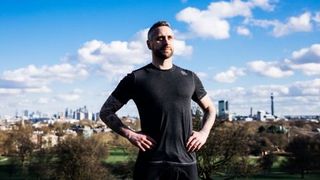 (Image credit: unknown)
To us, it's completely impossible to imagine doing 10,111 burpees in a day. Frankly, it's impossible to imagine doing 1,000. Try and knock out just 50 burpees right now and let us know how you feel about the idea of doing another 10,061. Yes, we'll wait for you to finish and laugh at the very idea.
Craig Peters, on the other hand, laughs in the face of 50 burpees. The 37-year-old personal trainer from Worthing, West Sussex, once did 67,161 burpees in a year, adding one rep for each day that passed, and he already has one attempt to claim the Guinness World Record for burpees in a 24-hour period under his belt. Peters stopped at 6,500 burpees due to exhaustion, but after following a focused training regime he's attempting to break the current record of 10,110 on 9th August 2018. By the by, this is the record for the standard squat thrust burpee jump – the record for chest-to-ground burpees in 24 hours is 9,000.
Peters raised £17,000 for St. George's Hospital with his 2016 record attempt, and this time around he is raising money for Queen Alexandra Hospital, Portsmouth, where his twin boys were cared for after their premature birth in 2014.
Ahead of the record attempt we spoke to Peters about his training and how on earth he can possibly face trying again after the pain he went through last time.
Can you describe the kind of pain and fatigue involved in the last record attempt, and how you motivated yourself to come back and try again?
I've never experienced anything like it. I was quite naïve at the last attempt. I was warned that I'd hit a wall but I never imagined how intense that would be. It was almost like having a panic attack. Hyperventilating, vomiting, shaking, crying – pretty much everything was featured twice over in the middle of the night. But once you get over that wall and come out of the other side, you are ready to go again. You just need to get it out of your system.
I always said I'd go again. I learned so much from the last attempt that the real failure would be to not at least try again. And if I fail to make the record this time, I'll come back again, and again, and again, until I do.
Last time the event was really intense with a lot of people watching me for hours on end. I've purposely kept this slightly more low-key in order to keep the pressure and my adrenaline levels as low as possible. And I'm feeling in much better condition than last time out.
What has your training involved, aside from an awful lot of burpees?
I've been training specifically for this event for around three months, with and without my trainer Gareth Ide (opens in new tab). It's all been focused on explosive and functional movements. We've also been including some burpees while attached to resistance machines around the waist, and also some burpees with a 20kg vest on. This has prepared me for when fatigue really hits.
One particular routine with my trainer involved getting into a plank position with my hands on a treadmill and feet on the floor. He would speed the treadmill up so I was 'crawling' quite rapidly for a minute, then he'd stop the treadmill and demand 50 burpees from me. We'd then go again. And again.
See related
How have you replicated doing burpees when extremely fatigued in your training?
In addition to the wearing the 20kg vest, I've also been doing burpees at rather strange times. For instance, I did some immediately after eating because I'm not going to have much time to allow food to digest on the day itself. I have also done some burpees quite late in the day as well when I'm feeling exhausted from work. I had promised myself to do some in the middle of the night but with three small children, I'm pretty much wiped out!
Sign up for workout ideas, training advice, reviews of the latest gear and more.