The Best London Gym Deal We Can Find This January
With a free month of ClassPass you can try the best fitness classes in the capital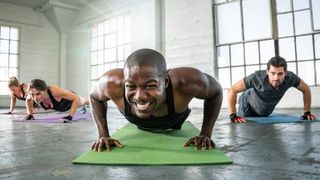 (Image credit: Unknown)
Pretty much every gym in the nation is currently offering some kind of deal to try and entice people through its doors, so calling any particular one the best available is a big claim. But we think the one-month free trial of ClassPass – a subscription service that allows you to flit between small-group classes at a wide network of fitness and yoga studios – really does stand out from the crowd for several reasons.
The first is economic. This is a free trial that really will cost you nothing as long as you remember to cancel it before it automatically renews for another month. Most of the big gym chains are offering one month free this January but that's only if you sign up and pay for a full membership of some kind.
Then there's the variety of exercise options. Whatever kind of workout you're after, whether it's a calorie-torching HIIT session, a relaxing yoga flow or some sweaty spinning, you'll have access to it through one of the studios available on ClassPass. Those studios are located all over London too, so you'll almost certainly find a few that are close to your home or workplace.
See related
With your free month's trial you get the chance to try seven classes, so if you've yet to find your favourite type of exercise it's a great way of trying different things to see if there's something you fall in love with.
Fitness classes in general are a great place to start if you have committed to getting fitter in 2019. A gym membership is terrific to have, but if you don't have a plan for what you're going to do when you actually visit the gym then you might find you waste your time there, or push yourself too hard, resulting in such savage muscle soreness that makes you never want to go back. With classes you get guided through a workout so you know you're using your exercise time as efficiently as possible.
You can sign up for the free trial and search for studios on the ClassPass website or the app (App Store and Google Play). You'll have to enter your card details, but as long as you cancel before the month is up you won't be charged. If you do want to stick with ClassPass, the membership automatically renews for another month costing £65.
Sign up for workout ideas, training advice, reviews of the latest gear and more.