This Girl Can Has A New Campaign To Get Mums Moving
The groundbreaking active lives campaign hopes to persuade mums to carve out some time and feel the benefits of exercise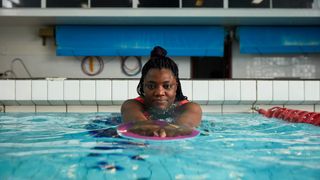 (Image credit: This Girl Can)
When you're spending almost every waking moment looking after a small child and someone suggests you should use any free time you do have to exercise, your initial reaction might be to start swinging. And that's fair enough – but allow us to try to convince you with the help of an expert, plus stats from This Girl Can.
Those stats include the headline-grabbing fact that six out of 10 mums feel guilty if they take time to exercise rather than spending it with their family. Then there's the 77% of mums who would like to do more exercise, but feel they don't have the time. Both paint a picture of a nation of mums who are keen to get moving, but feel like they can't.
We're going to tackle "mum guilt" first of all, with the help of family psychologist Emma Kenny. And if you're not exercising because you lack time or inspiration over what exercise to do, you'll find some ideas on how to get active from This Girl Can ambassadors below.
What is mum guilt?
It's no surprise that mums don't have a lot of free time, but it might surprise you just how little time they have – more than 60% only have about 90 minutes a day, and 30% only have an hour. Mum guilt crops up when you use this time to do something like exercise instead of something for the family.
"Instead of thinking 'This is about me, I need to look after my own wellbeing, concentrate on my own health and exercise', they just think 'I could do the ironing'," says Kenny.
Why is exercise important?
With six out of 10 mums experiencing mum guilt, we asked Kenny to explain why exercising shouldn't make you feel guilty in the slightest. For starters, exercise will keep you on form to look after your kids.
"You can think, 'I'm a superhero as far as my kids are concerned and they need me to be on my A game'," says Kenny. "You need to be the healthiest you can be for your children for the longest time possible."
Exercising also sets an example for your children, and this can have a real positive impact on the rest of their lives.
"There is loads of research that shows that although both parents are very important as primary carers, the way mum interacts with her activities and fitness affects kids' mindset about whether they should exercise and how that affects their wellbeing," says Kenny. "When you are looking after your own body, it infects that child's mindset and they think, 'This is normal for me, this is what mum does'. Children are children for a very small part of their lives. If you can transfer a really good blueprint of fitness to them as a child, they will carry that to adulthood."
How do you exercise when you're exhausted all the time?
New parents are not known for having boundless energy, and especially in the postnatal period it's common to struggle with mental health problems as well as exhaustion, which can mean exercise is the last thing on your mind. But it's worth doing everything possible to remain active.
"It's counterproductive not to [exercise]," says Kenny. "Because what happens when you do exercise is that you make a massive change to your brain chemistry. Motivation is the enemy of anxiety and depression.
"It's important to reframe it. If I work with someone who's going through a period of depression or anxiety, and tell them they need to exercise and diet, understandably they're going to want to punch me in the face. My job is to say, 'How can we make some small changes so you start benefiting?' If you don't want to do an hour down the fitness club, let's do a five-minute Pilates video on YouTube, or put some music on and shuffle around the room a little bit, or take the pram out for a brisk walk. That is going to change the way you're feeling, because that's what exercise and activity does.
"Everyone knows that they should, but people aren't pushing themselves to do it. So you have to ask yourself, 'Why don't I deserve to be as happy and healthy as possible?' If you say to me you can't do it because you're too exhausted, what you're saying is you're so tired that you don't feel good enough to give yourself something that's going to make a change for you. You don't feel you deserve it, so it's about reinforcing that sense that you do."
Kenny also suggests that if you can't find the motivation to exercise purely to make yourself feel better, you might find it by considering exercise something you're doing for your children.
"If you're a mum, most of your happiness is inextricably linked to your children – it really is," says Kenny. "If you look after your body and exercise in front of your kids, if they see you with a healthy routine, you are helping them to protect their wellbeing in the future. If you can't find the motivation for yourself, because you're exhausted or feel like you don't know where to start, think about your kids and the impact you'll have on them."
Will any kind of activity do?
"The most important thing with exercise is that you find your passion with it," says Kenny. "When I became a single mum I had to think about how I could exercise in my own home. I bought a kettlebell and it just transformed my world, then as the kids got older and I could leave the house I started cycling again, and really enjoyed it.
"There are things that are affordable that can have a huge impact on your lifestyle and wellbeing. If there's one thing you do, it's stop saying 'I can't' and start saying 'I will, I absolutely will'."
Exercise Ideas From Other Active Mums
To help provide some inspiration as you hunt down the activity for you, here are some active mums from This Girl Can.
Natalie Lee, 38, from London has two girls aged six and nine and found that dancing was the exercise she loved enough to do regularly. Natalie now attends four dance classes a week and both she and her kids notice how much happier she is when she exercises.
Norwegian Marlen Slinning has two children, aged five and one, and when she moved to Newcastle she couldn't find anywhere to play handball, her favourite sport. So she set up her own club. The club now has players of all ages and abilities, and Marlen takes her kids to matches and tournaments hoping it will encourage them to be active.
Nikki Odewunmi had her first child this year and he provides her main motivation to exercise, with swimming and Zumba her preferred activities. Nikki says when she doesn't have a chance to exercise she feels far more sluggish.
Rachel Baker has two sons, aged seven and eight, and initially found it hard to be active while looking after her family and working. After a health scare she got into running, cycling and swimming, afraid that her kids would lose their mother because she wasn't looking after herself. Though she couldn't run for more than 30 seconds at first, Rachel is now a Run Leader who teaches others how to get into the sport.
Sign up for workout ideas, training advice, reviews of the latest gear and more.