I Tried This Core Workout Used By Kenyan Marathon Runners And It's Even Harder Than I Expected
If you're looking for a core workout to support your running, this should be top of your list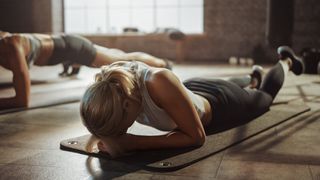 (Image credit: Gorodenkoff / iStock / Getty Images Plus)
Runners are, by and large, not great at doing supportive strength and core work. I'm a 2hr 28min marathoner and while I have managed to make yoga part of my weekly routine, it's a constant battle to make myself do any kind of strength training.
So if I am going to do something, I need to know it's going to be effective in supporting my running. There's no better way to guarantee that than copying a workout routine from the best in the business: a group of Kenyan marathoners.
This 45-minute workout was posted on YouTube in early 2019 by Kurt Davis, who filmed the session at the high-altitude training center in Iten founded by Lornah Kiplagat. Davis says in the description that runners there do the workout once a day—I barely manage to get through it once every two weeks.
I've done the workout three times now and it's not getting any easier. The session involves working through long sets of core exercises with little rest between moves, and targets the whole core including the lower back and glutes alongside the abs and obliques.
The session starts with a series of long plank holds—classic, side and reverse—done twice. It then moves on to abs exercises like V-sits, leg raises, flutter kicks and windshield wipers, as well as segments that focus on your glutes with moves like bridges and side leg raises, and your lower back with Supermans.
There are too many exercises to list and they come in quick succession, with the intensity ramping up as you realize that you're not getting a proper break before going on to start the next set with your abs already burning.
Each move is done for a long time: at least 20 reps or a count of 20, with the planks held for a minute. This is great for building the core endurance needed for running and really targets the deep-lying core muscles.
It's exactly the kind of thing I struggle to do with workouts I create myself, where I rush through them as fast as I can to get them over with. In this video there is no rushing. Indeed the trainer seems to delight in how long it takes him to count to 20 at times.
The workout is not designed just to make you feel the burn or sweat a lot. There are no gimmicks, no music and no shrieking from the trainer to try to push you through one more rep. It's just a brutally effective session that will make you a better runner. With a strong core there's less chance your hips will start sagging during runs, and your form in general will stay stable over longer events.
I frequently fail to hit the rep count or duration when doing the workout, and it will take a long time to build the core strength to master the session, but even when you're only getting through half of the reps for some of the exercises it's helping. There are plenty of Kenyan runners on screen struggling too, which has helped me keep going on occasion.
I'd urge any runner to give it a go when you do get 45 minutes of free time—I found you can cut this down to 40 by skipping some explanations of the moves once you've done the workout once. It's only going to make you a better runner, and following a class is a lot more bearable than trying to do 40 minutes of agonizing core exercises solo.
Sign up for workout ideas, training advice, reviews of the latest gear and more.