20 Best Fitness Gadgets and Tech from CES 2016 You Can Buy This Year
A new generation of trackers, wearables, action cams, flight simulators and other fitness gadgets you don't have to wait too long to try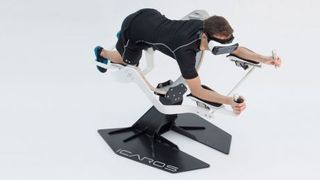 (Image credit: PR)
You like fitness. You like tech. You don't like to wait (long). Good news, all of these products from the 2016 Consumer Electronics Show are available this year (yes, not neccesarily in the UK but it's a lovely excuse for a summer holiday in America).
---
ICAROS
The Flight Simulator
Nothing says "Welcome to CES" quite like a flying machine paired with a VR headset. The ICAROS already featured in Coach when we spotted it in Las Vegas, but there's no way we could leave it out of our stars of CES.
The ICAROS allows you to soar through virtual worlds, effortlessly gliding over mountaintops, through canyons or even to outer space in its companion VR game. Well, not quite effortlessly, as the ICAROS also acts as a workout machine, where your core strength is tested as you move your body to control your flight. Superman's superb physique is not just down to great alien genes – it turns out flying is a whole-body workout.
It takes some time to master controlling the ICAROS, so expect several slightly terrifying head-first plunges into the ground before you level out, but once you do, it's a remarkable and truly unique experience. Unfortunately, it's not one you can expect to enjoy in your front room just yet, as the creators are aiming at arcades for now, but they're planning to develop a mass-market version in the coming year.
icaros.com
---
SensorWake
The Smelly Alarm Clock
Alarm clocks are like spiders: everyone acknowledges they do a valuable job, but that doesn't stop most from despising them. The SensorWake aims to lessen that hatred by waking you up not with a piercing shriek but with a smell, like chocolate or coffee or freshly baked bread, depending on which capsule you pop in it. Unless you sleep through the smell, in which case the shrieking kicks in as a back up.
Available in June, $109 (around £77), sensorwake.com
---
AiraWear
The Massaging Jacket
The AiraWear jacket grandly promises a massage on the move, a marvel achieved through its built-in inflation points. Controlled via an app, the AiraWear looks like a regular jacket until parts of it start inflating, and runs for three hours on a single charge. As well as offering a massage, it can also be used to support your back and gradually break the slouching habit developed at your desk.
Kickstarter planned for February, $250 (around £176), airawear.com
---
The Solar-Powered Bike
Harness the power of the sun to aid you in your cycling with this pedal and solar-powered hybrid bicycle. It might look like a cross between Del Boy's Reliant Regal and Fred Flintstone's footmobile, but if you get the pedals moving on a bright day it'll go like the clappers.
Available now, from $5,495 (around £3,870), organictransit.com
---
Breathometer Mint
The Portable Breath Monitor
There are few things more embarrassing than bad breath on a date. One of those things might well be shoving a green disc in your mouth to check your breath, but if oral hygiene worries you more than appearances, the Breathometer Mint has you covered. Stick the gadget in your gob and get instant feedback on your breath quality and hydration.
Available spring, pre-order for $99 (around £70), breathometer.com
---
TAO Wellshell
The Portable Workout Gadget
The portable Tao Wellshell is a computer mouse-shaped trainer that harnesses the power of isometrics to help you work out. The Tao will guide you through a variety of exercises that involve you squeezing it with different muscles, and links with games to ensure boredom is kept at bay.
Available summer, $200 (around £140), tao-wellness.com
---
Upper Arm Eagle Eye
The Football Tracker
Prove you cover more ground than anyone else on your Sunday league football team with this tracker. Eagle Eye straps to your upper arm and provides in-depth details of your match, including heat maps and the number of sprints completed.
Available spring, $150 (around £105), upperforma.com
---
GameRunner
The Treadmill cum Console Controller
Exercise while you play your favourite games via the Gamerunner system, which is a treadmill and handlebar controller that links with almost all first-person games across PC, Xbox and PlayStation. You can now enjoy a moderate workout while gunning down your enemies in Call Of Duty. House Of Cards's Frank Underwood has one on pre-order.
Available late 2016, $895 (around £630), gamerunner.com
---
Mofily YoCam
The Tiny Action Cam
The YoCam is an incredibly versatile, finger-sized camera that is designed to be taken everywhere, attach to anything, and record every possible situation that might arise. It's waterproof, able to connect via Bluetooth and WiFi, and can shoot 1080p video for up to two hours on a single charge.
Available March, $200 (around £140), getyocam.com
---
Catalyst Apple Watch Case
The Waterproof Shell
The Apple Watch can do it all except, notably, get too wet. Change that with the Catalyst case, which will allow you to take your prized wearable into the water and ensure those 20 lengths at the local pool count towards your activity goals.
Available now, $59.99 (around £42), catalystlifestyle.com
---
Beddit
The Stress Free Sleep Tracker
There are a thousand ways to track your sleep nowadays, but the Beddit stands out as perhaps the least obtrusive and smartest option. The Beddit sensor strip is wafer-thin so it can be slipped under your bedsheet, from where it tracks vibrations caused by heartbeats, breathing and movement, summing them all up in a sleep score each morning.
Available now, €149 (around £114), beddit.com
---
ili
The Wearable Translator
Remember the Babel fish, the omnilingual alien slipped inside ears to translate everything in the Hitchhiker's Guide To The Galaxy? We're almost there. The ili hangs around your neck, from where it translates what you say into a foreign language and interprets what others are saying to you. Each ili is preloaded with a two-language pair, so it doesn't need the internet to work. Very useful if you have to say "I have runners' trots – where is the nearest toilet?" in Inuit.
Available mid-2016, price TBC, iamili.com
---
UA Healthbox
The One-Stop Fitness Solution
Under Armour has entered the tracking market in grand fashion, delivering a box of goodies designed to help reshape your lifestyle. There's a fitness tracker band for your wrist, a set of smart scales that can tell you not only how much you weigh but also your body fat percentage, plus a heart-rate monitoring strap – all of which interact via an app that's bursting with health data.
Available summer, $400 (around £281), underarmour.com
---
Chronos
The Dumb Watch Upgrade
Turn any watch into a smartwatch just by slipping the Chronos disk on to the back of it. The disk, which is less than 3mm thick, brings an array of notifications and fitness tracking, and has a battery that will last three days.
Available spring, $99 (around £70), wearchronos.com
---
Muse
The Brain Tracker
Meet your very own technological meditation aid. The Muse fits on your head like a pair of glasses and then – and this is some claim – tracks your brain activity. It can purportedly hear how active your mind is and, when required, guide it back to a calm state via music.
Available now, £235, choosemuse.com
---
AMPY Move
The Motion-Charged Battery
The portable charger that'll give your phone a little extra juice whenever it's needed, as long as you're willing to put in some effort. The AMPY Move is charged by movement, so if you strap it to your arm, or slip it in a pocket, it'll gather power throughout the day. One hour of exercise will give you five of battery for your phone, or you can shake it for 90 seconds for an emergency boost.
Available now, $99 (around £70), getampy.com
---
Bixi
The Gesture Controller
Control your devices with a wave with the Bixi, a small, sensor-loaded disk that takes the touch out of touch-screens. You can use the sensor to turn the pages of a recipe on your tablet while your hands are covered in flour, or capture photos and video on a GoPro with a flick of the wrist while riding a bike.
Available September, Kickstarter launching February, price TBC, bixi.io
---
DietSensor SCiO Scanner
The Hand-Held Food Analyser
Say goodbye to calorie conundrums with this handheld scanner you can take anywhere to analyse the content of your food. Simply hold the SCiO near your food – it has to be homogeneous; the sensor can't pick apart every layer of your sandwich for you unfortunately – and it will send the nutritional details to your phone via Bluetooth.
Available mid-2016, $249 (around £175) + $10-20 monthly app subscription, dietsensor.com
---
Skulpt Chisel
The Body Fat Analyser
Check how muscular your muscles really are with this body fat percentage scanner. Hold the Chisel against any of 24 muscles around your body to get the facts on your fattiness within seconds. A high degree of accuracy is key to the Skulpt Chisel's appeal, as it'll give you a better body breakdown than fiddling with callipers.
Available April, pre-order for $99 (around £70), skulpt.me
---
Spün
The Calorie-Counting Cutlery
Smart spoons and forks are Spün's business, and business is good. Its intelligent utensils have the ability to provide a nutritional breakdown of your meal even as you transfer it from plate to mouth. Start by taking a picture of your food, which the Spün app identifies automatically, then eat using the cunning cutlery and it will send all the info to your phone.
Available summer, $75 (around £53) for full starter kit, spunutensils.com
Sign up for workout ideas, training advice, reviews of the latest gear and more.