3 Extraordinary Eco Cars
Mother Nature-friendly and Jeremy Clarkson-confusing marvels from the Geneva Motor Show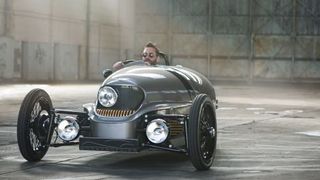 (Image credit: unknown)
Each year the motoring world congregates in Switzerland at the Geneva Motor Show to premiere the most exciting new things seen on wheels. To counterbalance the big reveals, such as the Bugatti Chiron (the world's fastest road car, which can go from 0-60mph in 2.5 seconds and produce 1,500 horsepower), there was also a raft of new green supercars. Running on hydrogen and electricity power, these vehicles let you breathe easy safe in the knowledge that no toxic fumes will harm you as you hurtle along at 180mph.
RECOMMENDED: How to Survive the Geneva Motor Show Like a Veteran
Morgan EV3
British manufacturer Morgan Motor Company is known for crafting quality, vintage-looking cars, but it's taken a giant step into the future with the all-electric EV3 (pictured above), which also made its debut in Geneva. The slick three-wheeler maintains the classic Morgan look – driving goggles and gloves ought to be compulsory – and has a range of 150 miles and a top speed of over 90mph. The EV3 will go into production in late 2016 and is expected to cost £35-£40,000.
Pininfarina H2 Speed
A hydrogen fuel cell provides the thrust in this Italian concept racing car, meaning that water vapour is the only emission even though the H2 Speed can do 0-62mph in 3.4 seconds and hit 86mph.
IED Shiwa
It's unlikely you'll spot this origami-inspired concept car on the roads anytime soon, but the Shiwa was unveiled in Geneva by the Turin Istituto Europeo di Design together with Quattroruote as a possible glimpse of the autonomous electric cars of the future.
No windows are required when the car is driving itself, so instead the Shiwa uses all that extra surface space to project media onto for the passengers to watch. The designers also claim that the Shiwa will learn the identity, interests and habits of its passengers so it can tailor its own behaviour to suit them. Whether that means driving at a different speed or providing a bacon sandwich in the morning is unclear.
RECOMMENDED: How We'll Be Driving in the Future
Sign up for workout ideas, training advice, reviews of the latest gear and more.