The Best Trampolines For Kids Still Available
Make your garden an exponentially more fun place by installing one of these top trampolines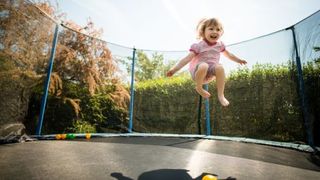 (Image credit: Unknown)
All parents, and none of us should be judged for this, have wondered what the best way to exhaust their child is. The answer is a trampoline, because there is no more enjoyable-slash-tiring way to spend your time when you're a kid.
Trampolines are large, they're a little unsightly and they can be dangerous if used incorrectly, but all that pales into insignificance in the face of the delight they can provide. And that's for you as well as your kids, if we're being honest.
There are few key decisions to make when buying a trampoline, starting with the shape. Round trampolines are the most common and cheapest, but the shape can lead to multiple bouncers congregating in the middle. Rectangular trampolines are what the pros use and are the best for anyone seeking higher, more gymnastic jumps, while oval trampolines can be the easiest to slip into a small garden.
You also have to decide whether you want a free-standing trampoline, which is the easiest to install and maintain, or invest the effort into digging a hole for a sunken trampoline, which is safer and less of an eyesore.
There's also the matter of enclosures to consider – beginner bouncers will be safer with a net around the trampoline. And then there's the price. Trampolines range from around £100 to over £1,000, though the options at the cheaper end of the range are only really suitable for small children.
---
The Best Trampolines For Kids 2020
One ramification of the COVID-19 lockdown is that many families have been buying trampolines in order to entertain children in the garden. As a result many popular trampolines are sold out, but there are still some great options available.
(opens in new tab)
TP Toys currently has three types of trampoline available to pre-order: the round Akrobat Fenix, and the Akrobat Orbit in both round and rectangular shape. If you're looking for a pro-class bounce then plump for the rectangular Orbit (£629), but the Fenix is the cheapest of the trio and we reckon it will satisfy the vast majority of at-home bouncers. The trampoline can be assembled easily without tools or screws, while the zip-free access and safety net will help avoid any accidents. All the trampolines currently available to preorder with TP Toys will be delivered by 11th May.
Buy from TP Toys | From £559.99
---
Capital In-Ground Trampoline
(opens in new tab)
If you're looking for a sunken trampoline then in-ground trampoline specialist Capital Play has an impressive range of options, with various sizes of round and rectangular trampolines still available, though deliveries are expected to take a little longer during the lockdown. The trampoline comes with a safety net and you can get accessories like a basketball hoop. The installation will take some time – a big hole is needed – but you can get quotes from Capital Play to do it for you if you can't face the digging.
Buy from Capital Play (opens in new tab) | From £685
---
See related
(opens in new tab)
These trampolines are expensive but the springless design means there's no chance of children coming a cropper in the springs, with the bounce provided by rods that sit under the trampoline surface. The frame is also hidden away below the surface so kids can't inadvertently land on it, while the net is supported by flexible poles rather than fixed rods which can be painful if hit at speed. Springfree is expecting stock in late April, but you can pre-order now.
Buy from Springfree (opens in new tab) | From £995
Sign up for workout ideas, training advice, reviews of the latest gear and more.