Garmin Fenix 7 Vs Garmin Forerunner 955
The Garmin Fenix 7 wins on durability and battery life, but the Garmin Forerunner 955 offers more value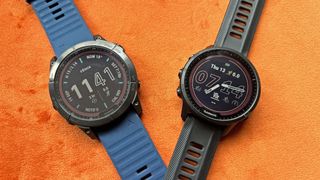 (Image credit: Nick Harris-Fry / Future)
The Garmin Fenix 7 and Garmin Forerunner 955 are now frequently found in sales because they're both older watches, having launched in 2022. Regardless of this, they remain among the best sports watches available. Since they are still up to date with Garmin's top features, and cheaper than newer options like the Fenix 7 Pro and Forerunner 965, the Forerunner 955 and Fenix 7 offer better value for those eyeing up one of Garmin's top devices.
The Garmin Fenix 7 is a more stylish and durable watch than the Forerunner 955, and comes in a wider range of sizes and designs, some of which offer longer battery life. It's heavier and more expensive, however, and doesn't have any notable software upgrades on the 955.
For
Range of sizes and designs
More durable than 955
Some models offer longer battery life
Against
Heavier and bigger than 955
More expensive
Only sapphire models have multi-band GPS
The Garmin Forerunner 955 might just be the best-value watch in Garmin's range, since it has all the brand's best features and is cheaper than the Fenix, Epix and Enduro models. It's not as rugged as the Fenix 7 and the plastic design is less classy for general use, but the 955's lightweight feel will appeal to many.
For
Better value than Fenix 7
Lightweight design
Multi-band GPS on all models
Against
Only one size
Plastic design
Garmin Fenix 7 vs Garmin Forerunner 955: Price And Availability
The Garmin Fenix 7 range launched in January 2022 and contains watches in three sizes and a variety of designs that use different materials. The smallest watch is the Fenix 7S, the Fenix 7 is the standard model, and the largest watch is the Fenix 7X.
A steel, non-solar Fenix 7S or 7 costs $699.99 in the US and £559.99 in the UK, while the steel Fenix 7X is $899.99/£739.99 and has solar panels as standard. The sapphire solar models that have titanium bezels are more expensive at $899.99/£779.99 for the Fenix 7S or Fenix 7 and $999.99/£829.99 for the Fenix 7X.
The Garmin Forerunner 955 launched in April 2022 in one size only, though you do have the choice between non-solar and solar versions of the watch. The standard Forerunner 955 costs $499.99/479.99, and it's $599.99/£549.99 for the solar version.
How I Tested These Watches
I tested the Garmin Fenix 7X Sapphire Solar and Garmin Forerunner 955 Solar for several weeks, using them to track my everyday activity and sleep alongside the workouts I did. My main sport is running and I've run hundreds of miles with both watches, as well as recording yoga and strength sessions, plus the occasional cycle ride. When testing the heart rate accuracy of the watches I compared their readings with those of a chest strap monitor.
• Read my Garmin Fenix 7 review
• Read my Garmin Forerunner 955 review
Design
Design is the biggest difference between the Fenix 7 and Forerunner 955. The Fenix 7 is a larger, heavier device, though also more rugged, and comes in a range of sizes and colors, whereas the Forerunner 955 has one size and is either black or white.
There is a larger bezel on the Fenix 7, which is made from either steel or titanium, as is the back of the case. This increases the weight of the watch compared with the all-plastic Forerunner 955. The weight and screen size of the Fenix 7 changes with the size you opt for.
Swipe to scroll horizontally
| Device | Case Size | Weight | Screen Size |
| --- | --- | --- | --- |
| Garmin Forerunner 955 | 46.5mm | 52g standard/53g solar | 1.3in |
| Garmin Fenix 7S | 42mm | 63g steel/58g titanium | 1.2in |
| Garmin Fenix 7 | 47mm | 79g steel/73g titanium | 1.3in |
| Garmin Fenix 7X | 51mm | 96g steel/89g titanium | 1.4in |
The Forerunner 955 has a 5ATM water resistance rating, while the Fenix 7 range is rated 10ATM, and in general the Fenix 7 is a more rugged, hard-wearing watch thanks to the metal bezel and case. Opt for a sapphire Fenix 7 and you also get a more scratch-resistant sapphire crystal screen, while the Forerunner 955 and steel Fenix 7 models all use Corning Gorilla Glass.
When choosing between the Fenix 7 models it's worth noting that only the sapphire watches offer multi-band GPS tracking, which is more accurate than the modes available on the standard Fenix 7 watches. Multi-band GPS is available on the Forerunner 955 and 955 Solar.
The Garmin Fenix 7X also has a built-in flashlight, which is not available on the smaller Fenix 7 watches or the Forerunner 955, though there is a setting that allows you to use the screen as a flashlight.
GPS And HR Accuracy
Garmin's multi-band GPS is the most accurate I've tested on watches from any brand, and if you opt for a model of the Fenix 7 with multi-band then you will see no difference in overall accuracy from the Forerunner 955. It's not infallible, but you are getting the best GPS accuracy on the market.
If you opt for a steel Fenix 7 model without multi-band, then the all-systems-on GPS tracking is still good but less impressive, especially when running under tree cover or among high buildings.
With regard to heart rate tracking accuracy, I didn't see a notable difference between the Forerunner 955 and Fenix 7 during my testing. With both, I would pair an external chest strap or armband heart rate monitor to get more accurate results because while the optical sensors on the Fenix 7 and Forerunner 955 are OK most of the time, I often saw errors compared with a chest strap.
Battery Life
The Garmin Fenix 7 and 7X watches offer longer battery life than the Forerunner 955, though the difference is only likely to be noticeable if you opt for the larger Fenix 7X. In my testing, the Forerunner 955 solar lasted seven to eight days on a charge, running most days with the multi-band GPS mode enabled, whereas the Fenix 7X Sapphire Solar lasted me two to three weeks in the same conditions.
With either watch the solar version will lengthen your time between charges, but only in the right conditions. In my testing, in the UK, where I spend most of my time indoors during the week, the solar versions of Garmin watches would not be worth the extra outlay. However, if you spend a lot of time outdoors in the sun they can extend your battery life considerably.
Swipe to scroll horizontally
| Header Cell - Column 0 | Garmin Forerunner 955 | Garmin Fenix 7S | Garmin Fenix 7 | Garmin Fenix 7X |
| --- | --- | --- | --- | --- |
| Smartwatch mode | 15 days/up to 20 days solar | 11 days/up to 14 days solar | 18 days/up to 22 days solar | 28 days/up to 37 days solar |
| GPS-only | 42 hours/up to 49 hours solar | 37 hours/up to 46 hours solar | 57 hours/up to 73 hours solar | 89 hours/up to 122 hours solar |
| All-systems-on GPS | 31 hours/up to 34 hours solar | 26 hours/up to 30 hours solar | 40 hours/up to 48 hours solar | 63 hours/up to 77 hours solar |
| All-systems-on GPS plus music | 10 hours | 7 hours | 10 hours | 16 hours |
| Multi-band GPS | 20 hours/up to 22 hours with music | 15 hours/up to 16 hours solar | 23 hours/up to 26 hours solar | 36 hours/up to 41 hours solar |
Sign up for workout ideas, training advice, reviews of the latest gear and more.