Is Garmin's Solar Charging Worth Paying Extra For?
I've used a variety of Garmin watches with solar panels, and unless you spend several hours outdoors every day, you're unlikely to reap big benefits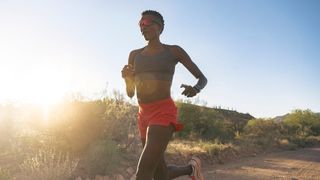 (Image credit: Garmin)
Adding solar charging to sports watches is a terrific idea, in theory. The constant trade-off with even the best sports watches is functionality for battery life, with power-hungry features like AMOLED screens, multi-satellite GPS settings and heart rate tracking all reducing the time between charges.
The theory is, if a sports watch could produce its own energy independently using solar panels it wouldn't need to balance cutting-edge features against battery life.
Unfortunately that day has not yet come, because the solar panels on sports watches are not that powerful. That said, if you are someone who spends a considerable amount of time outdoors it is definitely worth getting your hands on one of Garmin's solar devices.
Several watches in Garmin's range come with solar panels, including the Garmin Fenix 7 and Fenix 7 Pro ranges, the Garmin Enduro 2, the Garmin Forerunner 955 and Garmin Instinct 2 Solar.
In some cases a solar panel comes as standard, but with most Garmin watches sun-powered functionality is an optional extra, and it costs more to get the solar version of the watch. So, is it worth the outlay?
The numbers posted by Garmin can be very enticing. The Instinct 2 Solar can run indefinitely in watch mode in sunny conditions, for example, while you get 16 more hours of GPS tracking with the Fenix 7 Solar than on the standard Fenix 7.
However, the numbers Garmin gives are based on getting a certain amount of sunlight, namely being outside in 50,000 lux conditions (a measure of light level intensity) for three hours a day. This is 150,000 lux hours in total, and you can achieve this by outside in 25,000 lux conditions for six hours or 75,000 lux conditions for two hours, but any way you slice it, it's a whole lot of sunshine.
I've tested a variety of Garmin's solar watches and I find that amount of lux hours difficult to achieve even with my lifestyle, which I consider to be very active. I run outside once a day and take a couple of walks. But even on the sunniest days in the UK, after doing a 90-minute run alongside other spells outdoors, I struggle to hit even 100,000 lux hours.
That's partly because I live in the UK, of course—it's hardly known for its blazing sunshine—but it's still difficult to hit the levels required by Garmin when in other countries.
It's also worth bearing in mind that the angle of your watch to the sun matters too. Even if you're outside for long periods of time, if your watch isn't directly facing the sun, you won't get the lux hours you expect. This is especially notable for cyclists, because your position on the handlebars will affect how much sun your watch gets, though one of Garmin's range of solar bike computers is probably a smarter purchase than a watch if you're a committed cyclist.
For my use, it's difficult to reap the benefits of the solar versions of the watch. But it's a different matter if you're someone who works outside, or who enjoys long hikes, fishing or multi-day expeditions in sunny spots. If you're genuinely outside all day long you can tot up sufficient lux hours easily, and you will see a noticeable improvement in battery life.
Even if you do work mostly indoors, a solar Garmin can be useful for one-off adventures, where the extension in GPS battery life could make the difference in not having to charge or use a less accurate tracking mode to conserve the battery.
Overall, unless you have a clear use for solar charging, or you are regularly outdoors for most of the day, it's not worth paying extra to get a solar Garmin instead of a standard model for now. This gets confusing in some ranges where you have to have the solar version to get some other features, and there's no downside to the solar panels unless you dislike the look of the band around the watch face.
Sign up for workout ideas, training advice, reviews of the latest gear and more.