Use These Three Apps To Make The Apple Watch A Better Running Watch
The native sports tracking on the Apple Watch is fine, but if you're a keen runner these apps will seriously improve your experience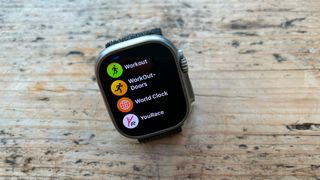 (Image credit: Nick Harris-Fry / Future)
The Apple Watch is a mainstay on our list of the best fitness smartwatches, and a large part of that is down to its fantastic app store, which has a wide range of fitness apps for the Apple Watch that improve on the native tracking. This has been especially helpful for runners because until the release of watchOS 9, the built-in workout modes were lacking certain essential features. That has improved, but runners can still get a better experience through third-party apps.
I am an obsessive runner and after testing a range of models from the major manufacturers, I think Garmin makes the best running watches, with the Garmin Epix 2 my current favourite. However, with the right apps, I have found that the Apple Watch Ultra and Apple Watch Series 8 offer a top-class experience for even the most demanding runners.
The three apps below all excel in different ways and one of the handy things about the Apple Watch is you can easily switch to the one best suited to the situation. For day-to-day training WorkOutDoors is the best app; for navigation and exploring, it's Footpath; and on race day I fire up YouRace.
WorkOutDoors
This is the best all-round running app for the Apple Watch. It allows you to create several data screens and customise all the stats on show during your runs. You can also use WorkOutDoors (opens in new tab) to set up workouts to follow, and it has colour maps that you can use to follow routes – though it doesn't have turn-by-turn navigation.
The main downside with WorkOutDoors is that it doesn't yet use the always-on display on the Apple Watch, so you have to deliberately turn your wrist to wake the screen. That's not a great hardship and an update is expected in 2023 to add that feature. It's the app I used when training for a sub-2hr 30min marathon with the Apple Watch Series 6, and it's been improving since then through regular updates.
You can use the Action button on the Apple Watch Ultra to lap manually with WorkOutDoors, and there's no better app to replicate the tracking of the best sports watches. It's cheap too, costing $6.99/£5.99 with no ongoing subscription.
Download from the App Store (opens in new tab)
Footpath
Footpath (opens in new tab) is the best navigation app of the four or five I've used on the Apple Watch, offering turn-by-turn navigation (with audio instructions if you want) and a variety of maps, including colour topographical maps on the Apple Watch. You can plan routes easily in the app and see a colour-coded elevation breakdown so you know how steep each climb and descent is.
You can use Footpath for directions in the background while tracking your workout with another app, but it also offers reasonably well-done run tracking, just with fewer stats than you get from WorkOutDoors or the native Workout app.
There's a seven-day free trial of Footpath available, after which it's $3.99/£3.49 a month for Elite access which unlocks worthwhile navigation features like turn-by-turn instructions.
Download from the App Store (opens in new tab)
YouRace
YouRace (opens in new tab) is a fairly new app that is updated regularly and is now a polished option for tracking all your runs, even if it lacks the depth of stats, customisation and maps you get with WorkOutDoors.
However, on race day it has one handy trick that makes it very useful indeed, which is that you can correct the distance as you pass a distance marker. For example, if your watch shows 2.89km as you pass the 3km marker on the course, a button press will correct the distance to 3km on the watch and adjust your pace stats as well.
You do this in race mode in the app using either the Action button on the Apple Watch Ultra or by pressing both buttons on the Apple Watch Series 8. This means you always have accurate stats on your watch during a race, even if GPS goes to pot – which is pretty common especially in city events where you run among tall buildings.
It's not a feature you need every day or even in every race, but YouRace is free and a very useful app to have on your Apple Watch when the occasion demands. There is also a pro version of the app that allows more data customisation and the ability to export workouts to Strava, which is worth the one-off $2.99/£2.49 cost.
Download from the App Store (opens in new tab)
Sign up for workout ideas, training advice, reviews of the latest gear and more.