Where Can You Buy The Nike Vaporfly 3?
A limited release of the new Vaporfly is available now if you're a Nike member, and from tomorrow if you're not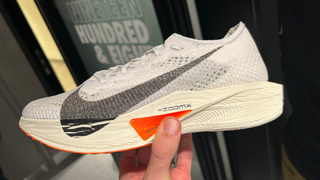 (Image credit: Nick Harris-Fry/Future)
The Nike Vaporfly NEXT% 3 is the most eagerly anticipated new racing shoe of 2023, because any update on the wildly popular Nike Vaporfly is going to get runners excited. The Vaporfly 2 still sits atop my ranking of the best carbon plate running shoes, so can the third edition really improve upon its predecessor?
If you're itching to find out, you can now buy the shoe through the Nike app (opens in new tab) if you're a Nike member. Just make sure you don't do anything as logical as searching for "vaporfly" or "vaporfly 3" in the app, because then the shoe doesn't come up. I found it by searching "next% 3". I'm not sure if this is a fun little Easter egg hunt from Nike or a mistake, but let's be charitable and say the former.
You'll have to move fast to secure the shoe because stock is already low in every size. This is a limited release of the white "proto" colour of the Vaporfly 3, with a wider launch coming later in March (an excellent pink colour is on the way).
Only Nike members can access the Vaporfly 3 at the moment through the app, but it's free and easy to become a Nike member (opens in new tab). If you're dead set against becoming one but still want the Vaporfly 3 as soon as possible, then it is set to go on sale at Pro:Direct Sport (opens in new tab) from tomorrow, 7th March. As far as I am able to confirm, it's only Pro:Direct and Nike itself that will have the Vaporfly NEXT% 3 available in the proto colour for now in the UK.
The new Vaporfly 3 will set you back £234.95, a £10 price rise on the RRP of the Vaporfly 2. Your other option at this time is to ignore all the excitement around the new Vaporfly and instead bag a deal on the Vaporfly 2. Some colourways are reduced to as little as £126 on Pro:Direct Sport (opens in new tab) or £149.95 on Sports Shoes (opens in new tab).
Sign up for workout ideas, training advice, reviews of the latest gear and more.