The Apple AirPods Pro 2 Fell Out Of My Ears When I Ran, Here Are Two Ways I Fixed It
If you want a more secure fit from the AirPods Pro 2, you can pick up third-party ear-tips and wings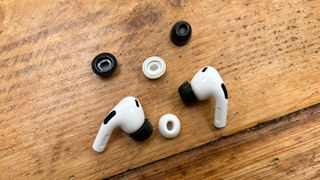 (Image credit: Nick Harris-Fry / Future)
The Apple AirPods Pro 2 are among the best running headphones, but whether they work for you depends heavily on the fit. For some people, the in-ear buds nestle comfortably and securely in the ear with no problems, for others, they shake loose when you start running and get a little sweaty.
I'm in the latter camp, unfortunately. I constantly have to prod the AirPods Pro 2 back into place on the run or they'll drop out of my ears. This is a great shame as they are brilliant buds for running otherwise, largely thanks to the excellent transparency mode which allows you to hear your surroundings as well as your audio. Unlike similar modes on other buds, with the AirPods Pro 2 you don't just hear wind noise, because it is effectively filtered out.
They are such good workout headphones that I decided to find a solution to my fit woes, and ended up with two. Both involve buying extra accessories, but the good news is these are cheap and widely available.
The first solution I landed on was to buy third-party silicone wings. There are many different options available on Amazon and elsewhere and these immediately create a very secure fit. The downside of using wings is that they don't fit into the AirPods Pro 2's case, so you have to put them on and take them off each time you use them which makes them easy to lose.
My second solution is to buy a set of memory foam ear-tips. Again these are cheap and many options are available—Comply's tips are probably the best known, but I used a cheaper brand I'd never heard of and the tips are fine. You need to buy tips made specifically for the AirPods Pro 2, because of the way they click into the headphones.
I've run several times with the memory foam tips, as well as doing a strength workout, and the fit is much more secure than with the standard silicone tips. I found that inserting the buds like earplugs also helped—I pull my ear up and back while putting the headphones in, which seems to make it easier to get them deeper into my ear canal.
The memory foam tips are the same size as Apple's silicone ones so the headphones still fit into their case, and they are more comfortable than using the wings, even if I don't find them quite as comfortable for extended use as Apple's silicone tips. Some people also find that using memory foam tips creates a better seal and improves sound quality, though I haven't noticed a difference.
If neither solution works for you, then there are many other great sets of running headphones that have a more secure fit. The Jabra Elite 8 Active are in-ear buds that stay in place for me, and the Bose QC Earbuds II come with wings to create a more reliable fit. I also find that the AirPods 3 stay in place for me because they don't have the in-ear tip.
Sign up for workout ideas, training advice, reviews of the latest gear and more.