How To Keep Your Training For The Simplyhealth Great North Run On Track
Or, if it's already off the rails, how to get yourself in shape for the race at short notice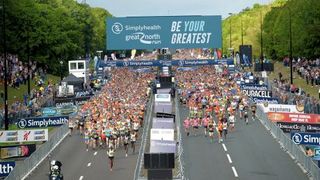 (Image credit: Unknown)
The Simplyhealth Great North Run is a spectacular event and if you're lucky enough to be one of the 57,000 runners taking part in it this year, you're in for an absolute treat.
However, any race can become a lot less fun if you haven't been able to train properly for it, either because of injury, lack of time, or a lack of effort – hey, we're all guilty of the latter from time to time.
With the race now just a month away, we enlisted Paul Noble, running physio who is working with Simplyhealth, title partner of the Great North Run, for advice on what to do in the final six weeks if your training is going well, poorly, or not going at all.
Your training's going perfectly. What should you be doing around this sort of time?
"It's a fantastic feeling and a great psychological boost knowing that your training and race preparations have gone smoothly," says Noble. "You've done all the hard work and must be feeling pretty pleased with yourself. Take time now to concentrate on the smaller but important preparations which can give you an extra 1-2% for your big day. Practise your race nutrition and hydration plan, fine tune your kit list and spend some time visualising the day of your race to double check you're not leaving anything to chance."
You've not been able to keep up with your training plan and keep skipping sessions. What should you do?
"First of all don't panic!" says Noble. "It's pretty common for runners to miss certain runs in the training programme for lots of different reasons. Some runners overtrain or peak too early so at least you know your best is still to come. The main lesson here is to make sure you don't try and squeeze in extra training sessions just to make up the miles. The risk is you'll overload your body too close to the big day and cause an injury. Continue your training programme from where you left off rather than skipping weeks to bring you up to date."
See related
You haven't started training
"Most of us mere mortals need to train for long runs," says Noble, "to slowly and gradually condition our bodies to the stresses and strains required. If you've yet to start training then it's key to evaluate your expectations of race day. It would be wise to plan to run at a sensible, slower pace with some intermittent walking thrown in. Start slowly and focus on enjoying the atmosphere rather than worrying about your time. If your training and preparation has been on the low side and you start the race too fast you're likely to burn out halfway and have a slow torturous walk to the finish."
You've gotten injured or are struggling with an injury
"Injuries close to race day are the dread of most runners," says Noble. "If you feel an injury starting to niggle or it's already taken hold then you're not alone. Many runners will be dealing with aches and strains from the long miles they've put in to their training. Seeking the help of a physiotherapist will pay dividends in the long run. Muscles can be released, tendons and joints offloaded with tape and training programmes can be modified. Commonly runners try and run through the pain in order to complete their mileage plans for the week but in all reality an extra rest day or two allows the body precious time to recover."
For more training advice visit greatrun.org/training-simplyhealth
Sign up for workout ideas, training advice, reviews of the latest gear and more.