Fancy Water Taste Test
Water choices now go well beyond still or sparkling – tree water, anyone?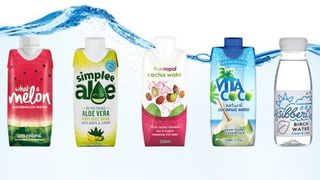 (Image credit: Unknown)
Left to right: What A Melon, Simplee Aloe, True Nopal Cactus Water, Vita Coco Coconut Water, Tree Water
Today's water is so much more than a tasteless fusion of hydrogen and oxygen, with almost every kind of plant incorporated into special brands of H2O.
The claims these newfangled waters make are grand ones, especially when you consider that old-fashioned regular water is pretty good in terms of hydration and contains no calories. Coach decided to see if it really is time to give up on plain tap.
RECOMMENDED: 20 Things You Should Know About Water
What A Melon
Why: Watermelon water, with the pips handily removed. Like cactus water [below] it promises to hydrate you naturally, and also contains lycopene, a handy antioxidant primarily found in red fruit and veg. £2, available at Planet Organic and Wholefoods. whatamelonwater.com
The Coach says: Watermelons are the king of summer fruits, so having a drink containing their tasty essence minus the damnable pips is a real treat for sunny days.
Simplee Aloe
Why: Aloe Vera extract has apparently been drunk for 5,000 years, with benefits mooted to include healthier skin and an immune system boost. £1.69, available at Sainsbury's, Asda and Waitrose. simpleealoe.com
The Coach says: Simplee Aloe comes in two flavours – grape & lemon and apple & mango – both of which are eminently acceptable, even if it feels a bit of a shame that neither reveal the mysterious taste of aloe.
True Nopal Cactus Water
Why: This prickly pear beverage promises to make you feel the power of the cactus. Fortunately that doesn't mean sticking spines down your throat, but instead providing natural hydration with no added sugars. Like water. £1.69, available at Boots and Waitrose. truenopal.com
The Coach says: A sweet, slightly tropical taste. Coach did not feel the power of the cactus, which was both a disappointment and a relief, but True Nopal's offering is undoubtedly refreshing.
Vita Coco Coconut Water
Why: The doyenne of fancy H2O, coconut water's reputation is built on the claim it rehydrates you better than normal water due to the dose of vitamins and minerals it contains. That and the rumour it'll help ease hangovers. £1.69, available at Tesco, Sainsbury's and Waitrose. vitacoco.com/uk
The Coach says: An acquired taste. It's a tad coconutty, not as much as you'd expect, and despite seeming pretty diluted at first, the cloying sweetness starts to grate halfway though the carton.
Tree Water
Why: Bottled sap from birch, maple and bamboo trees that promises plenty of natural nutrients. And the birch water is claimed to taste clean. Mmm… clean. £2.50, available at Boots, Planet Organic and Waitrose. sibberi.com
The Coach says: The birch water does taste clean, in that it doesn't taste of much. The maple sap is a little sweeter, while the bamboo water was a tad woody. Take your choice: clean, sweet or woody.
Sign up for workout ideas, training advice, reviews of the latest gear and more.