Learning to Forage for Food in London
Coach discovers the bounty on offer while foraging in Richmond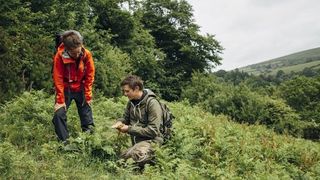 (Image credit: Unknown)
Foraging might have gone out of fashion with the dawn of agriculture, but there are still plenty of reasons to give it a try today. It gets you outside and off the beaten track (as that track is often beaten by dogs who like to relieve themselves on the leaves you're snacking on). You'll also discover plenty about the plant life around you, and pick up a slew of tasty morsels for dinner. To learn more about the free food on offer, Coach spent an afternoon in Petersham Meadows with foraging expert and Weber ambassador Nick Weston. Here are a few of the favourite finds from the day.
Sorrell
You might recognise the shield-shaped leaves of this herb, which can be used in its raw state to flavour fish meals in particular.
"You're looking for a bright green colour," says Nick. "You often find it under long hedgerows and banks, but also in meadows and fields."
Burdock
Half of everyone's favourite childhood beverage – dandelion and burdock – the roots of the plant are a fine emergency carb source.
"I'd treat it more of a survival food," says Nick, "if you need carbs and you're stuck in the wild, it's good. The leaves can be used to wrap meat and put it in the fire."
Yarrow
Another practical plant in a pinch, yarrow's scientific name is Achillea millefolium, the first part of which comes from Achilles apparently carrying it to treat battle wounds. So if all your foraging gives you a nosebleed, stick some yarrow leaves up your nozzle to encourage clotting.
Water Pepper
Coach's favourite find of the day: a leaf that can be used as chilli replacement. Also known as arsesmart, as it was once used in bedding to deter insects such as fleas – with the occasional unfortunate result that a sleepers' delicate rear might rest on the fiery leaves for too long during the night.
Ground Ivy
Described by Nick as an all-herb, in that a little ground ivy can be paired with all kinds of meats, due to its sage and rosemary properties.
Caution!
As with mushrooms, both friend and foe lurk in the undergrowth…
"The hemlock water droplet is the most poisonous plant we have in this country," says Nick. "When we take people out foraging we say that's the most important plant to know – know your enemies first. It's important."
Sign up for workout ideas, training advice, reviews of the latest gear and more.